JIMMY NEEDHAM'S NIGHTLIGHTS BECOMES RECORD BREAKING PROJECT DEBUTING AT #9 ON CONTEMPORARY CHRISTIAN COMBINED ALBUM CHART AND #1 ON DIGITAL ALBUMS CHART
The Project's First Single, "Yours To Take," Is The Highest Debut This Week At #23 On The Christian AC Indicator Chart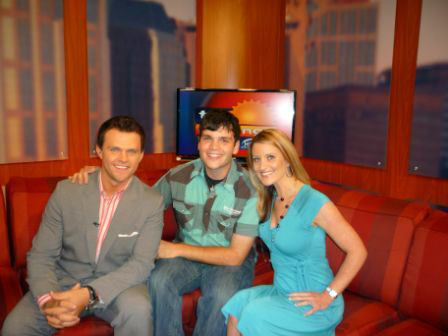 Photo ID (left to right): Shane Tallant, co-host, TN Mornings; Jimmy Needham; Kelly Sutton, co-host TN Mornings (For high-res photo please contact Bozeman Media)
NEWS SOURCE: Bozeman Media
May 26, 2010
Nashville, TN (May 26, 2010) ---- It's been a whirlwind of activity for singer/songwriter Jimmy Needham around the release date of his third project, Nightlights. The project's street date was May 18, 2010 and immediately the album sent fans into the stores and online to buy a copy. For the first time in his career, Needham debuted at #9 on the Contemporary Christian Combined Album Chart with sales that doubled his first two releases. At the same time, Nightlights reached the #1 position on the Digital Album charts.
After the success of Needham's first two projects, expectations were high for the development of this artist and Needham did not disappoint his fans, radio or media. CCM magazine proclaims, "The growth curve climbed exactly as imagined…the Houston native's progression continues at the same impressive rate as before on Nightlights." Radio is also responding to Needham's first single from the album, "Yours To Take," as it's the highest debut this week at #23 on the Christian AC Indicator chart.
"Jimmy has truly become an artist whose staying power continues to rise with each new release," says Andrew Patton, GM/VP of Label Operations, Inpop Records. "The growth in sales and continued strong radio airplay shows the consumer base responding and growing with each record. Just spend a few minutes listening to fan comments on the social sites or through digital outlets, and you'll see for yourself the impact his songs and artistry is having on people."
Nightlights was produced by Calvin Turner (Marc Broussard) and features twelve new songs written or co-written by Needham, with the thirteenth song being a remake of the pop classic, "How Sweet It Is (To Be Loved By You)." Millions of fans were treated to a live performance of the new tunes during a worldwide broadcast of Needham's CD release party in The Woodlands, TX. An upcoming feature in the Houston Chronicle will feature the concert in an artist profile of Needham on May 28th. Needham was in Nashville this week to perform "Yours To Take" live on Nashville's Fox 17 TN Mornings and then taped "How Sweet It Is (To Be Loved By You)" on WSMV's Better Nashville. The show will air on May 28th. The following week, Needham has several interviews on tap that includes Lifeway's Stand Firm Magazine, The Christian Manifesto and CMAddict.com.
About Jimmy Needham:
Needham released his first album, Speak, in 2006, on Inpop Records, and it generated respect and well-earned recognition from the Christian music industry for this talented singer/songwriter from Katy, Texas. The CD generated three singles "Fence Riders (#14)," "Dearly Loved (#8)," and "Lost At Sea," which charted for an incredible twelve weeks at the #2 position. Needham's second project, Not Without Love resulted in four hit singles including "Forgiven and Loved" as the break-out Christian AC hit, climbing to #6 nationally, while "A Breath Or Two," peaked at #3 at Christian CHR radio. Needham's third album, Nightlights, debuted at #1 on iTunes Top 200 Christian & Gospel Albums chart and #25 on iTunes Top 200 Albums chart for all genres of music. Media reviews and interviews have been overwhelmingly supportive of Needham and Nightlights. For press and tour updates please visit www.jimmyneedham.com.
About Inpop Records:
Inpop Records is an independent Christian music label based in Brentwood, Tenn. Founded in 1999 by newsboys founder and longtime frontman Peter Furler, artist manager Wes Campbell, and Australian businessman Dale Bray, Inpop is home to some of the best-known bands in Christian music. Distributed by EMI Christian Music Group, Inpop Records has become one of the top-selling independent labels within the industry, having established a reputation for seeking out the best artists in emerging talent and for expanding the Christian music marketplace with sound and ideas. Inpop artists have scored numerous No. 1 radio hits, earned multiple awards and nominations and achieved recognition around the world. Inpop's roster includes newsboys, Superchick, Mat Kearney, Shane and Shane, Jimmy Needham, Newworldson and Article One, among others. For more information, visit www.inpop.com.
#####
For more info on Jimmy Needham, visit the JFH Artists Database.


[2021]
Jan. | Feb. | March | April | May | June | July | Aug. | Sept. | Oct. | Nov. | Dec.
[2020]
Jan. | Feb. | March | April | May | June | July | Aug. | Sept. | Oct. | Nov. | Dec.
[2001 - 2020]
Visit our complete MUSIC NEWS ARCHIVE