Premier Christian Cruises and FamilyLife Offer First-Ever Fully Chartered Christian Marriage Cruise
Learn To "Love Like You Mean It" While Sailing The Bahamas

NEWS SOURCE: Spinhouse PR
June 2, 2010
HIGH POINT, N.C. and LITTLE ROCK, Ark. (June 2, 2010) – Premier Christian Cruises and FamilyLife have partnered to present the "Love Like You Mean It" Marriage Cruise setting sail on Valentine's Day 2011 for a 4-night Bahamas adventure. The trip will be the first-ever, fully chartered Christian marriage cruise, giving "Love Like You Mean It" guests full and total access to the majestic Royal Caribbean Monarch of the Seas ship in a Christian-friendly environment.
The "Love Like You Mean It" Marriage Cruise is an opportunity for couples to recharge both physically and spiritually. The romantic couples-only getaway will include all the sun, sea and island excursions expected on a luxurious cruise vacation, but this Christian cruise will also offer a life-changing marriage conference that aims to strengthen healthy marriages and heal troubled ones in an engaging, supportive and non-threatening environment.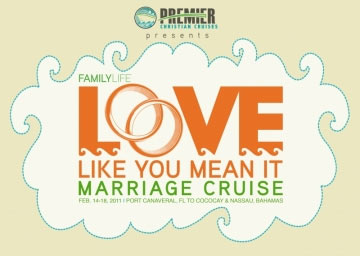 With a convenient and affordable payment plan offered at booking, more than 40 percent of the cabins have already been reserved. Cruise and booking information is available at www.premierchristiancruises.com or www.lovelikeyoumeanitcruise.com.
Hosted by FamilyLife's Dennis and Barbara Rainey, the cruise also features a notable list of inspirational speakers and entertainers, including marriage experts Bob Lepine and Crawford Loritts, best-selling author Shaunti Feldhahn and actor Kirk Cameron as well as top contemporary Christian artists Point of Grace, Big Daddy Weave and Michael O'Brien. Some of what couples will take from the cruise: God's purpose for bringing them together; the distinctive roles of husband and wife; lessons on resolving conflict and "fighting fair" and secrets for a sizzling sex life.
The "Love Like You Mean It" Marriage Cruise sets sail on Monday, Feb. 14, 2011 from Port Canaveral, Fla. The trip features two ports of call destinations in the Bahamas. CocoCay is a secluded island reserved exclusively for Royal Caribbean guests that features aquatic facilities, nature trails and miles of white-sand beaches. The other port of call is Nassau, Bahamas, known for great bargain shopping and Paradise Island/Atlantis Resort. The Monarch of the Seas returns to Port Canaveral on Friday, Feb. 18.
"Premier is thrilled to partner with FamilyLife to present the first 'Love Like You Mean It' Marriage Cruise. With great speakers, music and activities in awe-inspiring locales, I know this will be a spectacular 4-days for every married couple joining the trip. And, because we have fully-chartered the ship, every couple will enjoy all the comforts of a cruise, along with the great Christian environment that we provide for our passengers." said Roy Morgan, president of Premier.
Added Rainey, president, CEO and founder of FamilyLlife, "I can think of no more romantic way for a married couple to celebrate Valentine's Day than by joining us on the 'Love Like You Mean It' Marriage Cruise. It will be a relaxing four- day vacation without the kids and filled with life-changing programming to strengthen your relationship, discover how you can make a difference in the lives of couples around you, and enjoy great Christian entertainment."
About Premier Christian Cruises:
Premier Christian Cruises brings top Christian artists onboard cruise ships, along with great national and international speakers, a smattering of renowned comedians and a backdrop of exotic locations from Cancun, Mexico to The Bahamas. PCC has found the right recipe for spiritual journeys of a lifetime designed to bring people closer to their Creator. Among the Premier Christian Cruises annual getaways are the K-LOVE Friends & Family Music Cruise, The Music Boat and The Girls Get-A-Way Cruise. Over 40,000 passengers have experienced a Premier Christian Cruise over the last several years For more information, visit www.PremierChristianCruises.com.
About FamilyLife:
For more than three decades FamilyLife, a global, donor-supported, non-profit organization co-founded by Dr. Dennis and Barbara Rainey, has focused on the mission of using practical, biblical principles to build healthier marriages and families through conferences and media channels. FamilyLife, a 501c3, works in 100 countries around the world to help to transform lives and restore hope through its Weekend to Remember marriage conferences, Homebuilders Bible studies, FamilyLife Today radio broadcasts, Hope for Orphans orphan care ministry, FamilyLife publications, and the internet. For more information visit www.FamilyLife.com.
# # #


[2020]
Jan. | Feb. | March | April | May | June | July | Aug. | Sept. | Oct. | Nov. | Dec.
[2019]
Jan. | Feb. | March | April | May | June | July | Aug. | Sept. | Oct. | Nov. | Dec.
[2001 - 2018]
Visit our complete MUSIC NEWS ARCHIVE