Integrity Music and New Zealand's Parachute Band Extend Long Standing Recording/Publishing Agreement
Band Touring U.S. Throughout Summer in Advance of 2011 CD Release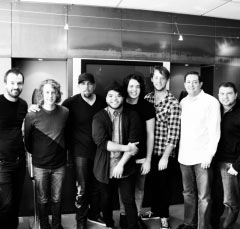 NEWS SOURCE: Spinhouse PR
June 14, 2010
MOBILE, Ala. - June 12, 2010 -Integrity Music recently extended its long-time recording/publishing agreement with New Zealand-based Parachute Band, whose music the label now distributes to over 160 countries.
Parachute Band has been signed with Integrity since 2006 when the label released All The Earth followed by the critically-acclaimed Roadmaps & Revelations and Technicolor, which introduced new members Omega Levine (frontman) and Sam de Jong (drummer/producer). The band is currently working on a new, not yet titled album due early next year.
In the meantime, the band is visiting the U.S. for concerts and festival appearances this summer including the Big Ticket Festival in Gaylord, Mich. (June 25-26); Cornerstone in Bushnell, Ill. (July 2) and Lifefest in Oshkosh, Wisc. (July 7-10). They return to the U.S. in the fall for Lifelight Festival in Worthing, S.D. (Sept. 5) and the Joyce Meyer Conference at Lakewood Church in Houston (Nov. 4). International appearances include the RockNations Conference hosted by fellow Integrity artists ALM:UK in Bradford, England (Aug. 5) and CreationFest UK in Cornwall, England (Aug. 10). A complete itinerary is available at http://www.parachutemusic.com/parachuteband.
Since its inception, the Parachute Band has represented the New Zealand Church, carrying new worship songs around the world. With international distribution through Integrity, Parachute Band takes their songs, which are crafted in local communities and churches, and presents them to the world. The response to these unique Kiwi songs has been strong. Casting Crowns re-recorded Parachute Band's song "Mercy" for their album Until the Whole World Hears, and former Delirious? frontman Martin Smith appears as a guest vocalist on the band's new project.
But theirs is not only a sound that resonates within the global Christian music community; Parachute Band speaks straight to their generation, weaving together their own blend of indie-rock that somehow incorporates the diverse stylings of Sigur Ros, the Yeah Yeah Yeahs and Passion Pit. Their impact led them to win the coveted People's Choice Award at the mainstream NZ Music Awards in 2008.
"Parachute Band has been creating some amazing worship music for years and we are excited to be a part of the next generation," says Jay King, Integrity's VP of A&R/Artist Development. "It's an honor for us to support their ministry around the world."
Additional information on Parachute Band and Integrity Music can be found at www.integritymusic.com and www.integritydirect.com.
# # #
(Pictured above at the offices of Parachute Music in New Zealand from L to R: Parachute Band members Rhys Machell and Jeff Parsons; Jay King, VP A&R/Artist Development of Integrity Music; Parachute Band members Omega Levine, Sam DeJong and Callum Galloway; John Coleman, VP/General manager of Integrity Music; Chris Springer, Sr. Dir of A&R of Integrity Music)


[2020]
Jan. | Feb. | March | April | May | June | July | Aug. | Sept. | Oct. | Nov. | Dec.
[2019]
Jan. | Feb. | March | April | May | June | July | Aug. | Sept. | Oct. | Nov. | Dec.
[2001 - 2018]
Visit our complete MUSIC NEWS ARCHIVE