MercyMe's 'Lovewell Streak' Continues
"All of Creation" Holds No. 1 Spot
For Over 11 Weeks At Radio

The Generous Mr. Lovewell Holds No. 1 At Retail

Lovewell Phenomenon Continues to Spread Around the Country Via CNN, Billboard, Hollywood Reporter and More
NEWS SOURCE: The M Collective
June 17, 2010
Nashville, TN…June 17, 2010… The MercyMe 'lovewell streak' continues for the multi-platinum selling band who reaches another career high as their current single "All of Creation," holds its spot at No. 1 on the AC radio chart for its 11th consecutive week, making it the longest run at radio in their career. The chart-topping track is the first single from the band's latest album The Generous Mr. Lovewell, which debuted at No. 3 on Billboard's Top 200 Chart, making it their highest sales debut ever. In addition to selling nearly 90k units in its first week, the album has remained the No. 1 selling album in its genre for an uninterrupted seven weeks.
Recently seen on the cover of the June issue of CCM's Digital Issue, CNN.com and Billboard also spoke with MercyMe about the lovewellI phenomenon. It is a movement that the band is not just talking about, but living out.
Following recent visits to the West Coast partnering with local radio stations and serving at Rescue Missions, assisting with can food drives and helping restore a car in Vegas, the Grammy nominated band partnered with God's Pit Crew, a non-profit disaster relief organization, and WPAR-FM in Danville, VA to help rebuild a home for local resident Ms. Jewel and her family. After a surgery in 2002 that caused trauma to Ms. Jewel brain, she is unable to walk without assistance and lives in an unstable home caring for her three children. MercyMe, God's Pit Crew volunteers and WPAR-FM invited the community to get involved as they kicked off a summer long project to rebuild the house in its entirety making it it handicap accessible while also leaving the family mortgage free.
While the band is encouraging all to lend a helping hand, the raving reviews continue to pour in showing support for the new record including from The Hollywood Reporter, Breathecast.com, HollywoodJesus.com and more:
"MercyMe's sixth studio album, '
The Generous Mr. Lovewell
,' is a beautifully executed set that celebrates how the power of love can change the world."-TheHollywoodReporter.com
"The music through whole project 'The Generous Mr. Lovewell' is dynamic and upbeat drums make you move along with the tracks. Well done MercyMe!" -Breathecast.com
"The Generous Mr. Lovewell, continues the band's trend of focused lyrics, Christ-centered themes, and infectious music."-HollywoodJesus.com
MercyMe will be performing some of their new material from The Generous Mr.Lovewell at various summer festivals and fairs including the Life & Faith Tour, Harvest Crusade, NewSong Festival and more. For more information on MercyMe and their summer dates please visit www.mercyme.org.
###
Since their debut in 2001, Grammy-nominated, American Music Award and multiple GMA Dove Award winners MercyMe have sold over 5.5 million units in CD and DVD sales, while being one of few Contemporary Christian music groups to have had all of their recordings certified Gold or Platinum, as well as garner 22 No.1 multi-format Christian radio singles, and four consecutive mainstream radio hits with "I Can Only Imagine," (No. 4 AC/top 25 on Top 40/Hot AC), "Here With Me" (No. 4 AC), "Homesick" (top 10 AC), and "So Long Self." In 2009 BILLBOARD named MercyMe's "Word Of God Speak" the #1 Song of The Decade and the group the #1 Christian Songs Artist of the Decade, with an additional #1 as the Christian AC Song Artist of The Decade as one of the industry's most notable talents. MercyMe recently made history as "I Can Only Imagine" surpassed 1 million digital downloads, making it the first song in Christian music to go platinum in the digital domain. The multi-platinum selling band has sold out venues including Radio City Music Hall and has been seen on The Tonight Show, CNN, Fox New Channel's Fox & Friends, ABC News, CBS' The Early Show, and on the pages of Entertainment Weekly, The New York Times, USA Today, Billboard, and more.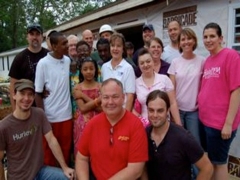 MercyMe joins God's Pit Crew and WPAR-FM to love well on a family in Danville, VA.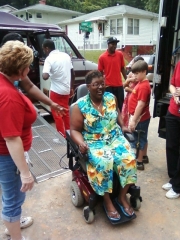 Ms. Jewel is overjoyed how the community is coming together to help her family.


MercyMe's frontman Bart Millard chats with local volunteers.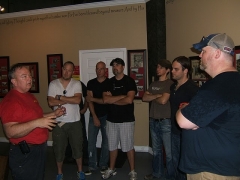 MercyMe prepares for a hard days work.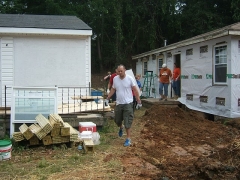 MercyMe's Mike Scheuchzer helps rebuild a home for a local family.
For more info on MercyMe, visit the JFH Artists Database.


[2022]
Jan. | Feb. | March | April | May | June | July | Aug. | Sept. | Oct. | Nov. | Dec.
[2021]
Jan. | Feb. | March | April | May | June | July | Aug. | Sept. | Oct. | Nov. | Dec.
[2001 - 2021]
Visit our complete MUSIC NEWS ARCHIVE