MICHAEL W. SMITH WORSHIP AND WORSHIP AGAIN ALBUMS CERTIFIED DOUBLE-PLATINUM AND PLATINUM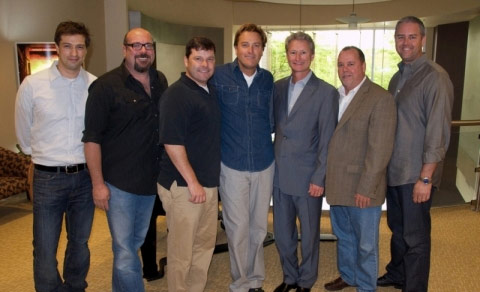 Pictured (l-r ) are: Jason McArthur, Vice President of A&R, Provident Music Group; Randy Davis, Vice President of Sales and Marketing, Provident Music Group; Jimmy Wheeler, Vice President of sales, Provident Music Group; Michael W. Smith; Terry Hemmings, President and CEO, Provident Music Group; Chaz Corzine and Greg Hamm, The MWS Group.
NEWS SOURCE: Provident Label Group
June 24, 2010
(NASHVILLE, Tenn.) June 24, 2010 – Michael W. Smith celebrates his first Double-Platinum certification by the Recording Industry Association of America (RIAA) for his 2001 Worship album and Platinum certification for his 2002 Worship Again album. The Double-Platinum status signifies the distribution of more than 2 million copies of an album or single and Platinum more than 1 million copies. Smith's career sales approach 15 million with a new album set to release in September.
His new single, "Save Me From Myself" goes for adds tomorrow, June 25.
Smith has inspired millions with his music, and the RIAA certifications further testify to his popularity and impact as an artist. Throughout his distinguished career, the RIAA has certified 16 of Smith's projects as Gold with sales of more than 500,000. Out of this list, six were later certified Platinum and one Double-Platinum.
About Michael W. Smith (Reunion Records/Provident Label Group):
Throughout his 27-year career as a recording artist, Michael W. Smith has amassed an impressive catalog of achievements. His 21 albums have garnered multiple honors including an American Music Award, three GRAMMY ® Awards (from 13 nominations), 44 GMA Dove Awards (in addition to 1 nomination in the 41st Annual GMA Dove Awards) and 33 No. 1 radio hits. In addition, he holds 16 Gold, six Platinum and one Double-Platinum album for career sales approaching 15 million.
Smith, who was inducted into the Gospel Music Hall of Fame in 2009, has scored several film projects, written 11 books and has been featured by media outlets including, NBC's Today Show, Good Morning America, NBC Nightly News, Larry King Live, FOX and Friends, Hannity and Colmes, USA Today, NY Times, The Washington Post, LA Times, Newsweek, has been named one of People Magazine's "Most Beautiful People" and has presented multiple times on the GRAMMY Awards show. His tours consistently rank among the best attended in the country, and he has performed to capacity crowds throughout the world.
Constantly giving back to the community, one of Smith's current projects is Rocketown--a nightclub for teens in his hometown of Nashville, Tenn.--which serves as safe place for young people to enjoy music and for artists to be discovered. He and wife Debbie Smith are the proud parents of five children. For up-to-date information on Michael W. Smith, please visit www.michaelwsmith.com or www.providentpress.com.
# # #
For more info on Michael W. Smith, visit the JFH Artists Database.


[2020]
Jan. | Feb. | March | April | May | June | July | Aug. | Sept. | Oct. | Nov. | Dec.
[2019]
Jan. | Feb. | March | April | May | June | July | Aug. | Sept. | Oct. | Nov. | Dec.
[2001 - 2018]
Visit our complete MUSIC NEWS ARCHIVE