MAE REUNION AND TOUR ANNOUNCED;
GOODBYE, GOODNIGHT TOUR SCHEDULED FOR THIS FALL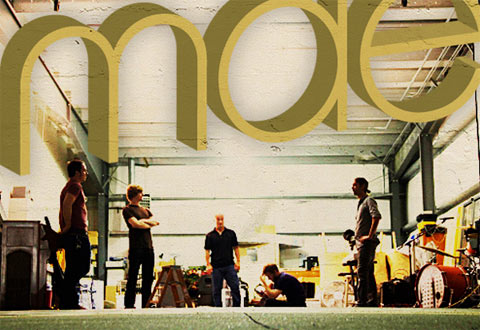 NEWS SOURCE: Mae
June 25, 2010
In 2007, Mae released their first and only major label album entitled SINGULARITY. Shortly thereafter, the band announced the departure of longtime keyboardist, ROB SWEITZER and bassist, MARK PADGETT. After three full length albums, both critical and fan acclaim, worldwide touring, and over a half million album sales, the music world breathed a collective gasp -- as for the first time ever the future of the band lay in question.
Embattled, the remaining three members, lead vocalist DAVE ELKINS, guitarist ZACH GEHRING, AND, drummer JACOB MARSHALL soldiered on as determined as ever with a newfound purpose, new hope, and a new set of goals. The start of 2009 marked the beginning of the band's "12 SONGS. 12 MONTHS. 1 GOAL. MAKE A DIFFERENCE." campaign and over the course of the year, the band embarked on a year-long journey to help those less fortunate and raise awareness about important humanitarian issues. Giving away all profits from digital downloads on the band's website--WHATISMAE.COM, the band raised over $65,000 in donations to fully fund the construction of a home for a family in need in Newport News, VA in conjunction with Habitat For Humanity and partnered with DonorsChoose.org to fund educational projects in all 50 states.
Not content with the status quo and unabashedly not afraid of change, Mae is proud to announce the reunion of the quintet most known for their seminal releases, DESTINATION: BEAUTIFUL (2003), THE EVERGLOW (2005), and SINGULARITY (2007). DAVE ELKINS, ZACH GEHRING, JACOB MARSHALL, ROB SWEITZER and, MARK PADGETT, will reunite for the "Goodbye, Goodnight Tour" this fall. Says ELKINS about the reunion, "Life is cyclical and all about the way we cope with change. The MAE that has been for the last 2 and half years has been quite an accomplishment on it's own merit, but ever since Rob and Mark's departure it seemed that every accomplishment was still incomplete. This reunion is a way for MAE to get back to what we were always meant to be - Rob, Zach, Jacob, Mark, and myself. Finally, we are back to what MAE needed most, each other."
The "Goodbye, Goodnight Tour" will kick off in early October and run through the end of November. The band's first performance together in over 3 years took place in Singapore on June 19th and while the long term future of the band beyond this tour is unclear, the "Goodbye, Goodnight Tour" will mark the band's indefinite farewell. The band plans to announce openers and tour dates in the weeks to come. Says SWEITZER "I am looking forward to playing music live with Zach, Jacob, Mark and Dave again. It did not take long during rehearsals to see that we have chemistry as a band even after being apart for 3 years. It is already apparent that there is a renewed energy and enjoyment in playing live together again." GEHRING adds, "Despite all the change that we've been through, both personally, and as MAE, the underlying creative current is still refreshingly strong."
And for the future? Says ELKINS, "The future is as unpredictable as it has always been. We will take advantage of this tour to express our gratitude to our fans and enjoy the bond that we've grown and are growing again among the five of us."
# # #
For more info on Mae, visit the JFH Artists Database.


[2020]
Jan. | Feb. | March | April | May | June | July | Aug. | Sept. | Oct. | Nov. | Dec.
[2019]
Jan. | Feb. | March | April | May | June | July | Aug. | Sept. | Oct. | Nov. | Dec.
[2001 - 2018]
Visit our complete MUSIC NEWS ARCHIVE