SILVERLINE RELEASES SOPHOMORE PROJECT,
VOICES IN THE NIGHT
Silverline Named Part Of 'The Innocent Monster Tour,' Joining Red, The Almost, And Brian "Head" Welch;

Band Deeply Inspired By Recent Trip To Uganda
NEWS SOURCE: Vining Media
July 12, 2010
July 12, 2010 - Nashville, TN - Silverline returns with their powerful and musically ambitious sophomore CD, Voices In The Night. The project just released on June 29th courtesy of VSR Music Group and EMI CMG Music Distribution.
For their second effort, Silverline's woven theme throughout Voices In The Night is about being a light in the darkness, to stand up for truth in a dark world and to not hold back when that darkness surrounds you. "We as Christians need to be the light, but so often we live in fear instead of faith," states Ryan Edberg, lead vocalist for Silverline. "Voices In The Night is our anthem to try and rally Christians together to stand for truth."
Edberg, the primary songwriter for the group, writes songs that help him get to the next step in his own Christian walk, in turn hoping that they will also help others. As a band, Silverline wants their songs to get people fired up about God and move them closer to Him, crafting inspiring pop and rock songs with a desire to send the message of hope and truth to today's younger generation.
One of the project's first singles, "Voices In The Night," is currently at Rock radio, while another stand out song, "Life Everafter," has just released to CHR radio. The latter is a worship song about the power of Jesus, stating that in His name there is power to move the mountains in your life. Edberg explains further, "Whatever it is that you're going against has already been defeated on the cross through Jesus. I wrote this song because you hear people say 'in the name of Jesus' so much without faith or a realization of the power that is really there."
Silverline has garnered respect as one of the hardest working bands in the industry due to their constant touring. The band headlines their own dates as well as appearing at festivals across the nation and alongside such acts as Switchfoot, Thousand Foot Krutch, Brian "Head" Welch, P.O.D., Hawk Nelson, newsboys, and many more.
Adding to their already busy schedule, it was recently announced that Silverline will appear this fall on the six-week "The Innocent Monster Tour," joining fellow rock bands Red, The Almost, and Brian "Head" Welch. Tour dates are still being confirmed, so visit Silverline's website for the most updated information.
Along with their musical travels across the U.S. the band also ventured earlier this year to Uganda, Africa to play concerts and to pray with the people there. The trip was so inspiring to the band that they are already planning for their next trip back.
Edberg shares, "It shocked me to see people with nothing so happy praising God. We have so much in America and yet we seem so depressed and miserable. We just need God and not look to the things we have because it doesn't last. Our things will be gone and money wasted but it is God who brings real joy.
"When it comes down to it, Silverline is around to encourage and build up but also to stand up for holiness and raise the standard back in Christianity," Edberg concludes. "I think you're either doing what God has called you to do or you're wasting your time."
Voices In The Night song listing:
Last One Standing
Turn it Up
Broken Glass
Shine a Light
More Than a Whisper
Life Everafter
Creation
Voices In The Night
About Silverline:
What began as three guys playing songs in a basement has transformed quickly into one of the most sought after bands in the country. Silverline has performed and ministered to youth in over 38 states, thanks to their relevancy and willingness to share the uncompromising Word of the Lord. After the success of their first independent single release, "Start to Believe," word about the band started to spread throughout the music industry and they were soon signed to VSR/EMI CMG Music Distribution. The band's stage show is electric with energy from thick guitars, explosive drums, and soaring melodies with lyrics that are thought-provoking and delivered with the deepest of passion. Silverline is committed to rocking as hard as legally possible, while standing up for truth in our lost generation.
Their debut CD, Start To Believe, released in August of 2009 and featured their Top 20 Air 1 single "Get It Right." Also an Interlinc favorite, the song and video were featured on the Interlinc special release, ConGRADulations 2010, distributed to high schools and youth groups across the U.S.
###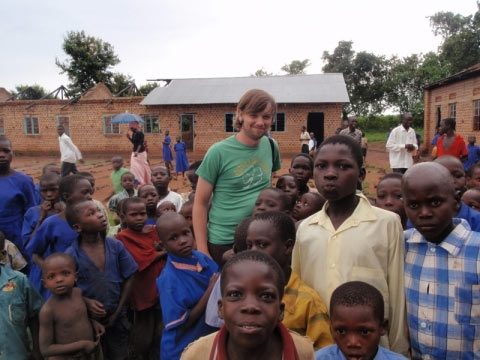 Ryan Edberg among the children of Uganda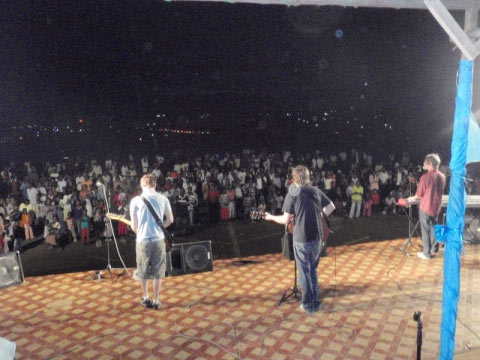 Silverline performs for a local community in Uganda
For more info on Silverline, visit the JFH Artists Database.


[2022]
Jan. | Feb. | March | April | May | June | July | Aug. | Sept. | Oct. | Nov. | Dec.
[2021]
Jan. | Feb. | March | April | May | June | July | Aug. | Sept. | Oct. | Nov. | Dec.
[2001 - 2021]
Visit our complete MUSIC NEWS ARCHIVE