KARI JOBE'S "YOU ARE FOR ME" MUSIC VIDEO
TO DEBUT ON gmc WEDNESDAY, AUGUST 18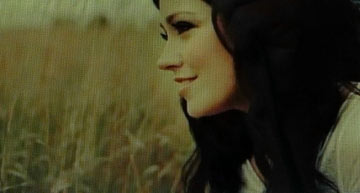 Screen Shot from Video: "You Are For Me" marks Kari's first time shooting a music video.
NEWS SOURCE: Spinhouse PR
August 16, 2010
Monday, August 16, 2010 – New Artist of the Year nominee and beloved worship leader Kari Jobe debuts her first music video on gmc (Gospel Music Channel) next Wednesday, August 18.
The video for Jobe's worship song "You Are For Me" will premier on gmc's "WakeUp Call" at 8 a.m. ET on Wednesday and will play in heavy rotation through the 7-9 a.m. music block for the next week.
"You Are For Me" is the third single from Jobe's self-titled CD, which has helped make her the biggest-selling new artist in Christian music. The song is moving up the radio charts, currently at #19 at Billboard Soft A/C and at #16 at CRW INSP.
The video was shot in part at a small chapel in Texas, the very same location that Jobe wrote the inspirational reminder of God's love and faithfulness. The song, she says, "came straight from a season of my own brokenness; a season when I was having to say to myself 'God, I know you are for me'."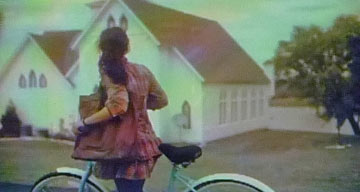 Screen Shot from Video: a small white chapel in Texas plays a prominent role in the music video...and in Kari's life.
While the "You Are For Me" video has already received significant exposure online, with more than 100,000 views, the gmc premier will be the first opportunity to see it on television and in HD (where available). GMC, America's favorite channel for uplifting music and family entertainment, is in 47 million homes on various cable systems around the country, on DIRECTV on channel 338 and on Verizon FiOS on channel 224. Visit www.watchgmctv.com for music video programming schedules.
Jobe, who is also a worship pastor at the Southlake, Texas-based Gateway Church, recently returned from Lima, Peru where she participated in Fiesta Juvenil (Youth Party) with international youth crusade leader Dominic Russo. Jobe led worship for the event, which drew over 100,000 and where more than 2,000 young people made decisions for Christ.
Jobe's future appearances include the Beautiful Conference in Baton Rouge, La. in August; the Lifelight Conference in Sioux Falls, S.D. in September and the Everywoman Conference in Australia in October.
Additional information on Kari Jobe is available at www.karijobe.com and www.integritymusic.com. Fans can follow her on Twitter at www.twitter.com/karijobe and on Facebook at www.facebook.com/karijobe.
# # #
For more info on Kari Jobe, visit the JFH Artists Database.