HAWK NELSON PREMIERES NEW MUSIC VIDEO FOR "SHAKEN"
"Get Shaken": Using video launch and social media,
Hawk Nelson and its fans to feed 1,000 kids through Samaritan's Purse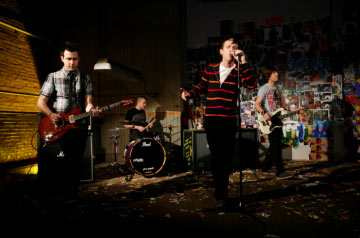 Hawk Nelson "Shaken" Still Photo (BGEA/Ransom.tv)
NEWS SOURCE: Overture Media
August 19, 2010
SEATTLE, Wash., Aug. 19, 2010 – Hawk Nelson has launched its newest music video, "Shaken," produced by Ransom.tv, an online ministry of the Billy Graham Evangelistic Association (BGEA).
For one week, "Shaken" will premiere exclusively to Hawk Nelson fans before going public. The video will be available on Hawk Nelson's Facebook page ( www.facebook.com/hawknelson) – only fans who "like" the page will be able to unlock the video. Fans will also have the opportunity to join the band and Samaritan's Purse in helping to feed 1,000 kids through its "Get Shaken" campaign.
"We love partnering with organizations and individuals that share our heart to impact the lives of others to Live Life Loud," share the members from Hawk Nelson. "Working with Ransom.tv and the folks at Samaritan's Purse is an absolute honor. 'Shaken' is a personal song - we had a blast making this video with Ransom.tv and love the end result."
In 2008, Hawk Nelson went to Haiti to visit the Hands & Feet Orphanage, where the band was moved by the people they met, especially children. "Shaken" was written following this visit, and the band says the song has even greater meaning after the country's devastating 7.0-magnitude earthquake earlier this year. Frontman Jason Dunn was able to visit Haiti in February with international relief organization Samaritan's Purse, where he says he saw how Haiti had been truly "shaken."
Open my eyes and help me see there's a world outside of me.
I've been shaken from my head, on down to my toes.
Lord use me, take me where you want me to go.
(
Lyrics
from "Shaken")
Along with the subject matter of "Shaken," Hawk Nelson has devoted this year to the motto from its most recent album, "Live Life Loud." Providing various avenues to get involved, the band is now working with Samaritian's Purse to feed 1,000 kids with the "Get Shaken" campaign. Anyone wanting to make a difference in a child's life can join the cause page on Facebook.
A "Ransom Note," or video testimony, from Hawk Nelson also debuted this week on Ransom.tv. Through this platform, band members had the opportunity to share their faith in Christ. To view the "Ransom Note," an interview about the meaning behind "Shaken," behind-the-scenes footage and photos, visit www.Ransom.tv and www.facebook.com/WeAreRansom.
Fans can also watch Hawk Nelson perform live this Saturday, Aug. 21, at BGEA's Rock The River Tour in Calgary, Alberta, as well as on Saturday, Aug. 28 in Edmonton, Alberta. Those not able to attend in person can see the performance streaming live on www.Ransom.tv. For more information on these festivals, visit www.rocktherivertour.com.
- ### -
About Hawk Nelson:
This powerhouse, pop rock foursome hailing from Canada has won the hearts of thousands since its debut release. After three steller studio projects, Hawk Nelson released "Live Life Loud" in 2009. This release was the third top album on the overall Christian chart, the #18 digital album in the nation, the second digital album on the Christian chart and debuted with eight singles in the Top 200 digital tracks during street week. Hawk Nelson has also appeared on NBC's drama "American Dreams," had a cameo appearance in the Nickelodeon film "Yours, Mine, & Ours," as well as had its songs featured on NBC's Stanley Cup promo spots, WB's "Smallville," "Summerland," and MTV's "Laguna Beach." For more information, tour dates and video updates from the band, visit www.hawknelson.com, or follow the band on Twitter at www.twitter.com/HawkNelson.
About Ransom.tv: Ransom.tv is an online ministry of the Billy Graham Evangelistic Association (BGEA) for young people ages 15-25, featuring original music videos, engaging interviews and culturally relevant articles designed to encourage a deeper relationship with Jesus Christ. Ransom.tv includes "Ransom Notes," or video testimonies from musicians, athletes and other celebrities. BGEA proclaims the Gospel of the Lord Jesus Christ throughout the world by every effective means available. From its headquarters in Charlotte, N.C., BGEA directs a wide range of domestic and international ministries.
About Samaritan's Purse:
Samaritan's Purse is a nondenominational evangelical Christian organization providing spiritual and physical aid to hurting people around the world. Since 1970, Samaritan's Purse has helped meet needs of people who are victims of war, poverty, natural disasters, disease and famine with the purpose of sharing God's love through His Son, Jesus Christ. Samaritan's Purse's Child Feeding Fund supports children and families in poverty stricken communities around the world, providing the life-saving food and medical care they need, along with an opportunity to hear the Gospel of Jesus Christ. This fund also sustains orphanages, daycares, hospitals, schools, ministries and camps for people displaced by war or conflict. For more information, visit www.samaritanspurse.org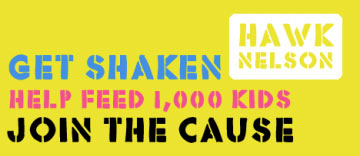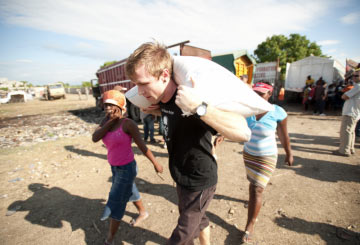 Hawk Nelson's Jason Dunn in Haiti in February 2010 with Samaritan's Purse
(Samaritan's Purse)
For more info on Hawk Nelson, visit the JFH Artists Database.


[2022]
Jan. | Feb. | March | April | May | June | July | Aug. | Sept. | Oct. | Nov. | Dec.
[2021]
Jan. | Feb. | March | April | May | June | July | Aug. | Sept. | Oct. | Nov. | Dec.
[2001 - 2021]
Visit our complete MUSIC NEWS ARCHIVE