iShine All Starz 2010 Showcases the Best in Tween Entertainment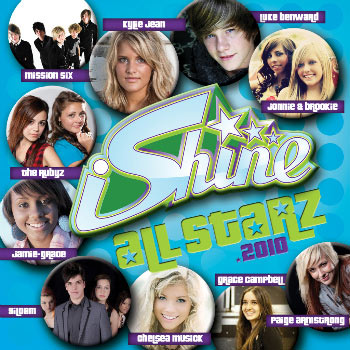 NEWS SOURCE: Nashville Publicity
September 8, 2010
(NASHVILLE, Tennessee) -- iShine returns with the second volume of their All Starz CD series, featuring artists from the iShine KNECT television series and the popular iShine LIVE! Tour. iShine All Starz 2010, in stores now through Provident-Integrity Distribution, is a collection of hits from some of today's most popular young Christian recording artists, including Mission Six, The Rubyz, Luke Benward and the winners of Radio Disney's "Next Big Thing," Jonnie & Brookie.
The album also features songs from iShine regulars Paige Armstrong, Kylie Jean, Grace Campbell, Siloam, Jamie-Grace and Chelsea Musick.
"iShine is excited to expand its most popular series of tween focused music in our history," says executive producer Robert Beeson. "iShine Allstarz 2010 features talented artists from around the U.S., and reflects the growing depth of talent emerging from today's generation of Christian youth."
The family-friendly project not only features some of the hottest young artists, but some of the top producers in the music industry. The album includes the production talents of Shaun Shankel (Natalie Grant, Hilary Duff), Jeff Savage (TobyMac, Jars of Clay), Chris Omartian (Pink, Hilary Duff), Dan Needham (Everlife, The Katinas), Kevan Cyka (Lifehouse, Lindsay Lohan, Katy Perry) and more.
iShine KNECT reaches an estimated 1 million viewers each week on TBN. The iShine LIVE! Tour is a high-energy, faith-based concert tour that in three seasons has become one of the top family events of the year. iShine also impacts tweens through music (iShine Records), the web (iShineLive.com) and additional resources for parents and tweens.
# # #


[2022]
Jan. | Feb. | March | April | May | June | July | Aug. | Sept. | Oct. | Nov. | Dec.
[2021]
Jan. | Feb. | March | April | May | June | July | Aug. | Sept. | Oct. | Nov. | Dec.
[2001 - 2021]
Visit our complete MUSIC NEWS ARCHIVE