MARY BETH CHAPMAN'S BOOK CHOOSING TO SEE DEBUTS ON NEW YORK TIMES BESTSELLERS LIST
Book Enters The Hardcover Nonfiction List at #16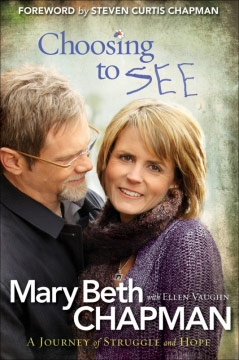 NEWS SOURCE: Vining Media
September 13, 2010
Nashville, TN - September 13, 2010 - Mary Beth Chapman's book Choosing to SEE: A Journey of Struggle and Hope debuted on the New York Times Hardcover Nonfiction List at #16 for the list published on September 12. Chapman, the wife of award-winning recording artist Steven Curtis Chapman, co-authored the book with Ellen Vaughn, a New York Times bestselling author and inspirational speaker.
In Choosing to SEE, Chapman bares her heart and soul as she shares honestly about her personal journey - from her childhood, to challenges of married life, to the sudden and tragic loss of a daughter. Throughout the pages, Chapman tackles these questions with grace, grit, insight, and most of all, hope. The book has already been promoted by outlets such as People Magazine, Focus On The Family, FamilyLife, Larry King Live's blog, Family Talk, 700 Club, Moody Broadcasting and many more.
Chapman has already been on the road speaking at the first few of 13 Women of Faith conferences this year as well as on the 32-city fall tour "A Night With the Chapmans," which just kicked off this past weekend. The remaining tour dates for this one-time only show are listed below. She is represented by Creative Trust Literary Group located in Nashville, Tennessee.
To read her blogs, for conferences and tour dates, and how to connect with her over Facebook and Twitter, please visit:
Mary Beth Chapman and her husband Steven have been married for 25 years and have six children: Emily (24), Caleb (20), Will Franklin (19), and Shaohannah Hope (10), Stevey Joy (7), and Maria Sue, who went to be with Jesus May 21, 2008. In 2001, the couple began an adoption ministry, Show Hope, which began as an assistance to families in the process of adoption, particularly by helping tear down the financial barrier that prevents many from bringing an adopted child into their home. To date, Show Hope is now an internationally recognized voice for orphan advocacy and has given over 2,500 financial grants, affecting the lives of children from 45 different countries, including the U.S. In addition to giving financial grants, Show Hope empowers families, churches and communities with adoption and orphan care resources and advocacy efforts. Mary Beth currently serves as the ministry's president. Along with her husband, she has also co-authored three books for their Shaoey and Dot children's series, and she continues to write a compelling blog found on her website. The family resides in middle Tennessee.
Revell, a division of Baker Publishing Group, offers practical books that bring the Christian faith to everyday life. Revell publishes resources from a variety of well-known authors and has established publishing partnerships with M.O.P.S. (Mothers of Preschoolers) and Hungry Planet.
A Night With The Chapmans Tour Dates*:
9/16 - Westerville, OH
9/17 - Cincinnati, OH
9/18 - Willoughby Hills, OH
9/23 - Chattanooga, TN
9/30 - Little Rock, AR
10/1 - Murray, KY
10/2 - Ft. Wayne, IN
10/3 - Springfield, MO
10/5 - Louisville, KY
10/7 - Houston, TX
10/14 - Durham, NC
10/15 - Savannah, GA
10/16 - Thomasville, GA
10/17 - Ft. Meyers, FL
10/21 - Holland, MI
10/22 - Merriville, IN
10/23 - Elgin, IL
10/24 - Davenport, IA
10/28 - Myrtle Beach, SC
10/29 - Jacksonville, FL
10/30 - Ft. Pierce, FL
11/11 - Knoxville, TN
11/12 - Simpsonville, SC
11/13 - Aiken, SC
11/14 - Vestavia Hills, AL
11/18 - Troy, OH
11/19 - Cicero, NY
11/20-21 - Joppa, MD
*dates subject to change


[2022]
Jan. | Feb. | March | April | May | June | July | Aug. | Sept. | Oct. | Nov. | Dec.
[2021]
Jan. | Feb. | March | April | May | June | July | Aug. | Sept. | Oct. | Nov. | Dec.
[2001 - 2021]
Visit our complete MUSIC NEWS ARCHIVE