New York Times' Best Selling Author Donald Miller Alongside Critically Acclaimed Musicians Derek Webb, Sandra McCracken and Robbie Seay Band
Unite For The "Love Tells The Story Tour" this Fall
Miller's The Mentoring Project Sponsors The Ten Night Only Tour
Running Nov. 6 Through Nov. 15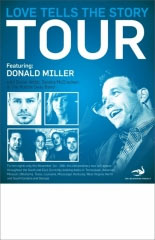 NEWS SOURCE: The M Collective
September 23, 2010
Nashville, Tenn. Sept. 23, 2010… Donald Miller, Derek Webb, Sandra McCracken and Robbie Seay Band are teaming up for a rare night of music, art and storytelling with the "Love Tells The Story Tour" this fall. The tour combining both a New York Times' best selling author and acclaimed musicians will embark throughout the South and East appearing in 10 cities starting Nov. 6 through Nov. 15.
"I don't know if I've been more excited about a tour than I am about hitting the road with Derek, Sandra and Robbie," explains Miller. "It's going to be a creative night of storytelling through both speaking and music. I hope you can make it out for a magical night."
"This is such a unique moment that brings us all together for this tour," adds Webb. "We're all such diverse artists, yet we all find ourselves in seasons of creative overlap and common intention, and I think it's going to make for a really special night of music and art. Plus, it's really nice to be working with your friends."
Miller's male mentorship organization, The Mentoring Project, is the official sponsor for the "Love Tells The Story Tour." TMP seeks to respond to the American crisis of fatherlessness by inspiring and equipping faith communities to mentor fatherless boys. The organization primarily serves boys between the ages of 7-14 who are growing up without fathers. They serve the faith community by providing resources, mentor training, mentoring handbooks and consultation. For more information on TMP, visit http://www.thementoringproject.org.
"I'm thrilled to be part of this tour, and the opportunity to join with these guys to spend ourselves on story, conversation and music," echoes McCracken.
"Somehow I convinced one of my favorite authors and two of my favorite songwriters into letting my band tag along on tour this fall," says Seay. "We are beyond thrilled to share the stage for several nights of storytelling with our friends Donald Miller, Derek Webb & Sandra McCracken."
More information about Donald Miller:
Donald Miller grew up in Houston, Texas, in the shadow of the Astrodome. He left Houston at 21 in a Volkswagen van, and later wrote a book about his trip called Through Painted Deserts. In his travels, he ran out of money in Portland, Oregon where he audited classes at Reed College, then selected as the most godless campus in the country. He wrote a book about that experience called Blue Like Jazz that eventually became a New York Times Bestseller and is now being made into a movie. Don then followed up with the best-selling Searching for God Knows What. After thirty-years of no interaction with his father, Don found his biological dad and wrote about it in a book called Father Fiction. About that time, he started The Mentoring Project, an organization that seeks to respond to the American crisis of fatherlessness by inspiring and equipping faith communities to mentor fatherless boys. Don's work with The Mentoring Project led the Obama administration to invite him onto the Presidential Task Force on Fatherhood and Healthy Families. Last year, along with the Ride: Well Team, Don rode his bicycle across America in an effort to raise money to drill wells in Sub-Saharan Africa. This experience, along with the writing of the screenplay for Blue Like Jazz, provided material for his newest book, A Million Miles in a Thousand Years (also a New York Times Bestseller). He has appeared at such diverse events as The Democratic National Convention and the Vertias Forum at Harvard. He lives in Portland, Oregon with his dog Lucy. More information can be found at http://donmilleris.com/ and http://twitter.com/donmilleris.
More information about Derek Webb:
A founding member of the Houston, Texas-based Caedmon's Call, singer/songwriter Derek Webb has seen career sales approaching one million records, 10 Dove Award nominations, a Billboard Music Video Award nod and six No.1 radio hits. Webb's innovative music marketing and distribution strategies have received national news coverage in USA Today and the LA Times. His latest release Stockholme Syndrome sparked more praise for Webb's musical stylings with Relevant Magazine calling it is his "most unusual and best release to date" and Christianity Today adding that the album finds Webb at "what may be his finest hour, both musically and lyrically." In the fall of 2010, Webb is releasing an experimental worship project called Feedback, whose songs will be heard for the first time on this tour. More information can be found at http://www.derekwebb.com/ and at http://twitter.com/derekwebb.
More information about Sandra McCracken:
Sandra McCracken is an independent singer-songwriter whose smart, soulful blend of folk, pop, and gospel is as progressive as it is timeless. A founding contributor of the Indelible Grace projects, McCracken's contemporary settings of classic hymns are sung in congregations across the country. Drawing inspiration from Bob Dylan, Johnny Cash, Emmylou Harris, and U2, McCracken crafts songs wedding razor-sharp hooks to incisive, confessional lyrics to create a transcendent portrait of the human spirit. McCracken currently lives, writes, and records at her home in East Nashville, Tennessee with her husband, Derek Webb, and their two children. Her newest release is In Feast or Fallow, a hymns project. More information can be found at http://www.sandramccracken.com/ and at http://twitter.com/sandramccracken.
More information about Robbie Seay Band:
Robbie Seay Band is a group of musicians bent on creating art, not only for art's sake, but for the sake of giving authentic voice to the hopes, fears, joys and sorrows of everyday people. Honed from community life at Ecclesia Church Houston, where Robbie Seay and his band serve on a weekly basis, their songs are a call and response to life, to what God is doing in their midst, as it happens. Miracle, the latest from Robbie Seay Band, released earlier this year in the spring. More information can be found at http://www.robbieseayband.com/ and at http://twitter.com/robbieseay.
# # #
"Love Tells The Story Tour" dates
* all dates subject to change, please stay tuned to artist's websites for most up to date tour information
November 6 TBD
November 7 Dallas, TX
November 8 Nacagdoches, TX
November 9 Houston, TX (pending)
November 11 St. Louis, MO
November 12 Naperville, IL
November 13 TBD
November 14 Minneapolis, MN
November 15 TBD


[2022]
Jan. | Feb. | March | April | May | June | July | Aug. | Sept. | Oct. | Nov. | Dec.
[2021]
Jan. | Feb. | March | April | May | June | July | Aug. | Sept. | Oct. | Nov. | Dec.
[2001 - 2021]
Visit our complete MUSIC NEWS ARCHIVE