MARY BETH CHAPMAN'S CHOOSING TO SEE CONTINUES TO CLIMB THE NEW YORK TIMES' BEST SELLERS LIST
Chapman Receives Outstanding Support From Nashville, Named One Of Nashville's "Most Beautiful People," Promotes Book With All Local Media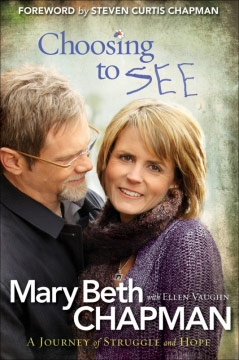 NEWS SOURCE: Vining Media
October 9, 2010
October 9, 2010 - Nashville, TN -Mary Beth Chapman's book, Choosing To SEE: A Journey of Struggle and Hope (Revell) continues its place on The New York Times' Hardcover Nonfiction Best Sellers List just one month since its release. This week the book places #21, up from #22 last week. Chapman, the wife of award-winning recording artist Steven Curtis Chapman, co-authored the book with Ellen Vaughn, a best-selling New York Times author and inspirational speaker.
During recent promotional runs for the book in Nashville, the Chapman's hometown, as well as in Dallas, Mary Beth Chapman appeared in such outlets as The Tennessean, on WTVF's "Talk of the Town," Fox's "Tennessee Mornings," WFAA's "Good Morning Texas," as well as on syndicated national radio programs "Mornings With Doug & Kim" heard on The Fish 94.1 and "Total Axxess", which is heard on 88.7 WAY FM. In addition, the Chapman's joined Frank Reed on KLTY's morning show, while Mary Beth appeared on WSIX with Gerry House and on WLAC's MommyTimeRadio. Together the Chapman's also taped segments for Life Today and Daystar, with airdates forthcoming.
And to top off the support of Nashville? It was announced that Mary Beth Chapman was named one of Nashville's 25 Most Beautiful People, courtesy of Nashville Lifestyles magazine! The Top 25 are featured in the October issue, available now. More information can found on the Nashville Lifestyles website.
The 32-city Chapman Family Tour continues into its fourth week, with full auditoriums at each stop. The remaining tour dates for this one-time only show are listed below. For the most updated information about Mary Beth Chapman, to read her blogs, for conference dates and how to connect with her over Facebook and Twitter, please visit:
ABOUT MARY BETH CHAPMAN:
Mary Beth and her husband Steven have been married for 25 years and have six children: Emily (24), Caleb (20), Will Franklin (19), and Shaohannah Hope (10), Stevey Joy (7), and Maria Sue, who went to be with Jesus May 21, 2008. Mary Beth bares her heart and soul in her book debut, Choosing to SEE, as she shares honestly about her personal journey - from her childhood, to challenges of married life, to the sudden and tragic loss of their daughter. Throughout the pages, she tackles these questions with grace, grit, insight, and most of all, hope.
In 2001, the Chapmans began an adoption ministry, Show Hope, which began as an assistance to families in the process of adoption, particularly by helping tear down the financial barrier that prevents many from bringing an adopted child into their home. To date, Show Hope is now an internationally recognized voice for orphan advocacy and has given over 2,500 financial grants, affecting the lives of children from 45 different countries, including the United States. In addition to giving financial grants, Show Hope empowers families, churches and communities with adoption and orphan care resources and advocacy efforts. Mary Beth currently serves as the ministry's president. Along with her husband, she has also co-authored three books for their Shaoey and Dot children's series, and she continues to write a compelling blog found on her website. The family resides in middle Tennessee.
A Night With The Chapmans Tour Dates*:
10/14 - Durham, NC
10/15 - Savannah, GA
10/16 - Thomasville, GA
10/17 - Ft. Meyers, FL
10/21 - Holland, MI
10/22 - Merrillville, IN
10/23 - Elgin, IL
10/24 - Davenport, IA
10/28 - Myrtle Beach, SC
10/29 - Jacksonville, FL
10/30 - Ft. Pierce, FL
11/11 - Knoxville, TN
11/12 - Simpsonville, SC
11/13 - Aiken, SC
11/14 - Vestavia Hills, AL
11/18 - Troy, OH
11/19 - Cicero, NY
11/20-21 - Joppa, MD
*dates subject to change
Mary Beth Chapman...one of Nashville's Most Beautiful People!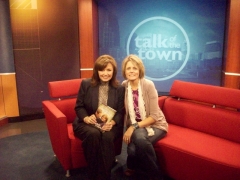 Mary Beth with Meryl Rose on Talk of the Town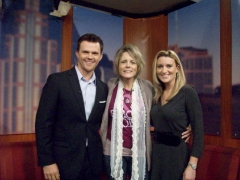 With Shane Tallant and Kelly Sutton, Fox's Tennessee Mornings


[2021]
Jan. | Feb. | March | April | May | June | July | Aug. | Sept. | Oct. | Nov. | Dec.
[2020]
Jan. | Feb. | March | April | May | June | July | Aug. | Sept. | Oct. | Nov. | Dec.
[2001 - 2020]
Visit our complete MUSIC NEWS ARCHIVE