NEWSBOYS ARE LOOKING FOR YOU TO BE PART OF THEIR NEXT CD!
The Band Announces Their "Way Beyond Myself" Remix Competition!

Newsboys' Current Radio Single "Way Beyond Myself" Is Climbing The CHR Charts, Now At #11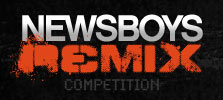 NEWS SOURCE: Vining Media
October 20, 2010
Nashville, TN - Oct. 20, 2010 - Calling all Newsboys fans! The band and Inpop Records want you to be part of their first-ever Newsboys' Remix Competition for their current hit radio single, "Way Beyond Myself."
The contest is open to fans of all ages and no production experience is required. The winning remix, chosen by a combination of fans votes and by Newsboys themselves, will then be featured on the band's expanded Born Again edition, set for a March 29th, 2011 release date.
All you have to do to get started is download free mixing stems on the contest's website and a simple upload is accessible using the new Soundcloud DropBox system. After contestants upload their remix, they are encouraged to get their friends to comment on their entries. At the deadline, all submissions will be available for fans to vote on their favorite.
The contest officially opens today, Wednesday, October 20th and runs through December 6th. A specific list of details is available on the official website, Newsboys.com/remix.
As an added incentive, Soundcloud is offering the winner of the remix contest a one-year pro account, worth an estimated $350. For further details and for an official listing of specific rules and terms of the contest, visit the website.
"Way Beyond Myself," the band's current radio single, garnered the most adds so far this year at Christian CHR radio in a single reporting period. The song received an astounding 17 adds in its first week, and is currently #11 on the charts. "Way Beyond Myself" is the second to release from Newsboys' current project, Born Again, and follows its No. 1 single, "Born Again." Along with the winning remix of "Way Beyond Myself," the forthcoming expanded edition of Born Again will also feature three other song remixes of "Jesus Freak," "Mighty To Save" and "Born Again."
ABOUT Newsboys:
This GRAMMY®-nominated and Dove Award-winning band has achieved what few artists have in their lifetime. They have sold almost 7 million units, garnered five Gold albums and 26 #1 hits, and are renown for their heart-pumping live shows. Last year, when longtime members Jody Davis (guitar), keyboardist Jeff Frankenstein and drummer Duncan Phillips welcomed the vocal strengths, writing talents and boundless energy of former dc Talk member Michael Tait to the band, it was clearly a good reason for newsboys to feel Born Again and share brand new songs with fans old and new.
Since Born Again released July 13th 2010, Newsboys' 15th studio project, the project's self-titled single topped the charts for weeks, having a total of 7.47 million impressions to date. The first week of release for Born Again was the largest street week of their careers, selling an astounding 45,311 units and hitting #4 on Billboard's overall chart. At press time, Born Again has scanned 114,863 units since its release.
And the year is certainly not over for the band. Newsboys just released their first-ever Christmas project, Christmas! A Newsboys Holiday, on October 12th. They join Newsong the weekend after Thanksgiving to kick off the "Very Merry Christmas Tour 2010" to help promote the Christmas EP. The 20+city nationwide tour dates, kicking off in North Carolina and finishing in Georgia December 20th, can be found at Newsboys.com.
For more information, visit Newsboys.com.
- ### -
For more info on Newsboys, visit the JFH Artists Database.


[2022]
Jan. | Feb. | March | April | May | June | July | Aug. | Sept. | Oct. | Nov. | Dec.
[2021]
Jan. | Feb. | March | April | May | June | July | Aug. | Sept. | Oct. | Nov. | Dec.
[2001 - 2021]
Visit our complete MUSIC NEWS ARCHIVE