3RD ANNUAL "BELLA BASH" --A SOLD-OUT SUCCESS TO BENEFIT ANGEL WINGS FOUNDATION
CELEBRITIES, MUSIC AND MESSAGE SUPPORT A GREAT CAUSE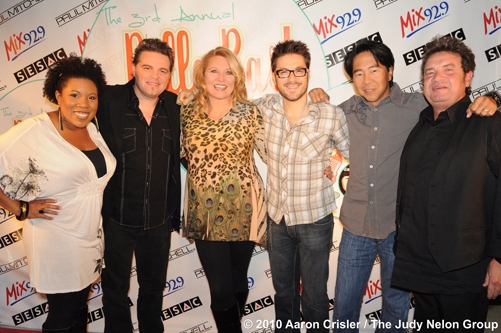 PHOTO ID: MELINDA DOOLITTLE, REGIE HAMM, DELILAH, DANNY GOKEY, HENRY CHO & RUSS TAFF CELEBRATE SUCCESS OF 2010 "BELLA BASH" IN NASHVILLE.
NEWS SOURCE: MorningStar PR
October 22, 2010
(Nashville, Tennessee) -- October 22, 2010 -- By every measure of success, Thursday's 3rd Annual Bella Bash Concert to benefit the Angel Wings Foundation exceeded all expectations. Over 500 supporters packed the sold-out Loveless Barn for a night of music, comedy, and world-class entertainment.
In his introduction, Angel Wings Foundation founder Regie Hamm announced an exciting new joint initiative with Vanderbilt's Kennedy Center to establish the Angel Center, a Middle Tennessee facility for comprehensive therapy, diagnosis, and support for children battling profoundly challenging mental and/or genetic disabilities.
Hit-songwriter and author Regie Hamm assembled a stellar list of celebrity friends for Thursday night's "Bella Bash," including Delilah, the most listened to female voice in radio history, American Idol favorites Melinda Doolittle and Danny Gokey, multi-Grammy winning Christian artist, Russ Taff, nationally renowned comedian, Henry Cho, hit Nashville songwriter Bruce Carroll and an all-star Nashville house-band Tim Akers & the Smoking Section. The event included red carpet photo opportunities and a special celebrity meet-and-greet for the Angelman families in a special room staffed by therapists from Vanderbilt University's Kennedy Center. As the founder of the event Hamm said he wanted the evening to be a time to celebrate life and to give love to "the least of these." With the help of Hamm's all-star cast of friends, the Bella Bash succeeded beyond a shadow of a doubt.
The story behind the "Bella Bash" is a very personal one. In 2003, Hamm and his wife,Yolanda, flew to China to adopt their first child, Isabella Xin Meng Hamm. Unknown to them at the time, baby "Bella" suffered from a rare genetic disorder, Angelman Syndrome. Often misdiagnosed as severe Autism because of the similarity of the conditions, "Angels" like Bella are missing a tiny piece of maternal chromosome that puts them in need of constant care throughout life.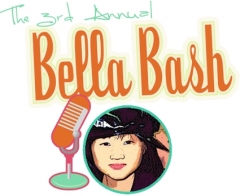 In honor of Bella, the "Bella Bash" was established in 2008 as a evening of music dedicated to raising much needed funds and awareness of Angelman Syndrome and the myriad of other rare genetic and mental disorders that medical science has yet to unravel.
This year Regie, a multi-Grammy nominee and four time SESAC "Songrwiter of the Year," has founded The Angel Wings Foundation. The vision is not only to assist in providing diagnoses for those suffering from genetic and/or mental disabilities, but also to be a complete resource for the families, providing physical, speech/communication/occupational therapies, nutritional, emotional, and logistical 'real world' support for those facing the challenge and their caregivers. Registered as a 501(c)(3) non profit, The Angel Wings Foundation is dedicated to better quality of life and care for a segment of children too often under-served.
Partnering with Vanderbilt Kennedy Center, plans are currently on the drawing board for a center that would offer a full array of medical services and comprehensive therapy for children and adults battling the most severe forms of genetic and/or mental disabilities. It would be the first center of its kind in the U.S.
The visionary goal of the newly-formed Angel Wings Foundation to ultimately establish an "Angel Center" here in Middle Tennessee gained invaluable visibility and support from last night's 2010 "Bella Bash" event.
Resource online:
www.bellabash.org
# # #


[2020]
Jan. | Feb. | March | April | May | June | July | Aug. | Sept. | Oct. | Nov. | Dec.
[2019]
Jan. | Feb. | March | April | May | June | July | Aug. | Sept. | Oct. | Nov. | Dec.
[2001 - 2018]
Visit our complete MUSIC NEWS ARCHIVE