SLEEPING GIANT FRONT MAN TOMMY GREEN ANNOUNCES RELEASE OF HIS FIRST BOOK RELIGIO-CIDE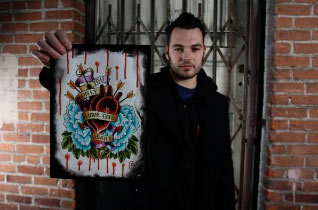 NEWS SOURCE: The Cadence PR
December 2, 2010
(December 1st, Murray, Utah) Tommy Green, best known as the passionate flailing preaching front man of Sleeping Giant, has announced that he has written a book that will be available just before Christmas. The book, entitled Religio-Cide is for "anyone who wants to learn more about friendship with Jesus", explains the new author. "Anyone who is a part of the bride who feels like their spirituality in Christ isn't connected somehow or is empty or is over playing Sunday school and has real problems especially those who feel like they don't know how to listen to the Holy Spirit in their prayer lives or the business of daily life. The people who know and the people who don't."
As a charismatic and contagious front man, Green has never shyed away from sharing his heart from the stage. His words touch many and his performance is the purest form of worship for any hardcore kid who has seen what the world has to offer and has chosen to go the other way.
The book will be available December 6th through Green's church website www.revolutionreality.org as well as Amazon.com and Createspace.com
"This book is not perfect; it is not all encompassing in its scope of the "Christian" life. It may not be accepted or acceptable by all of the people in it's intended audience. It is not necessarily spelling out groundbreaking or new ideas about Jesus, and discipleship, and the author is not always consistent or disciplined. This short book is also not meant to criticize without solution or teach without experience. This is my honest dream of the beginning of discipleship life. This is my life and friendship with Jesus Christ, and whether you agree with what I have to say or not, this is part of what I believe God is doing in my Generation. He is so capable that he is using my glaring immaturity and imperfection to display the glory of His perfection in relationship. Please read with an open mind and practice what is written. It might not change your life in relationship with God or your relationship with yourself and the world around you. But it just might.

Please understand…. I love my King and I am out to destroy any and every religious crutch that stands in the way of true friendship."

Tommy Green
# # #
For more info on Sleeping Giant, visit the JFH Artists Database.


[2022]
Jan. | Feb. | March | April | May | June | July | Aug. | Sept. | Oct. | Nov. | Dec.
[2021]
Jan. | Feb. | March | April | May | June | July | Aug. | Sept. | Oct. | Nov. | Dec.
[2001 - 2022]
Visit our complete MUSIC NEWS ARCHIVE