The Music Boat Sets Sail in 2011 with Chris Tomlin, newsboys, Mercy Me, Brandon Heath, Israel Houghton and More
Premier Christian Cruises Expects Another Sold-Out Boat Next November as Carnival Imagination Travels to Cozumel and Key West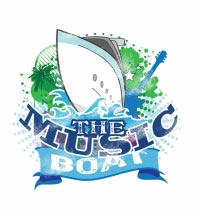 NEWS SOURCE: Spinhouse PR
December 9, 2010
HIGH POINT, N.C. – December 9, 2010 – Spending vacation with your favorite Christian music artists is the ultimate fantasy experience for many fans. Thanks to Premier Christian Cruises, it will be reality for those Christian music fans who book their 2011 vacation on The Music Boat, featuring a top Christian music artists including Chris Tomlin, newsboys, Brandon Heath, Israel Houghton and more.
The 6th annual sailing of the Music Boat leaves Miami, Fla. for the resort destinations of Cozumel, New Mexico and Key West, Fla. Nov. 7-11, 2011. The Music Boat is now accepting reservations. Because the cruise is already 50 percent full, now is the time to book. Premier Christian Cruises is currently offering a $150 cabin discount until Dec. 31, making the Music Boat a great family Christmas gift. More information is available at www.musicboatonline.com.
The Music Boat will charter the 70,000 ton Carnival Imagination cruise ship that features the Carnival WaterWorks waterpark with a 4-deck high Twister Waterslide, a tropical resort-style pool and a mini-golf course. The Imagination also has Camp Carnival, three supervised and age-appropriate (for ages 2-17) clubs for kids and a serenity-inducing Spa Carnival for the adults.
While the amenities aboard the Music Boat are first class, it is the first-rate entertainment that distinguishes this cruise vacation. Hosted by the GRAMMY and Dove-nominated gold-selling newsboys, the Music Boat will have shows each night of the cruise with more than a dozen artists and speakers and musical styles ranging from pop to rock and urban to rap.
Multi-platinum and multi-Dove Award winning Chris Tomlin makes his first and only cruise appearance on the Music Boat along with Dove winners Brandon Heath, Mercy Me, Israel Houghton, Sanctus Real, Salvador and KJ-52. 2010's New Artist of the Year Sidewalk Prophets is also sailing the Music Boat. Paul Young, author of the New York Times best-seller The Shack; NY Inner-City Pastor Tom Richter and Biggest Losers Phil and Amy Parham are among the inspirational speakers for the cruise. For the kids, Veggie Tales' Bob and Larry will be featured guests on the Music Boat. And, additional artists and speakers will be added soon.
"The Music Boat offers a literal boat load of the best Christian music artists on a cruise that guarantees safe fun for the whole family. On this cruise, family, friends and church groups will experience fun, music and inspiration; I can think of no better luxury vacation opportunity than a Christian cruise," said Premier President Roy Morgan.
World Hope is the presenting flagship ministry in the annual Music Boat outreach to impact lives. Passengers on the 2010 cruise raised more than $60,000 for the ministry.
About Premier Christian Cruises: Premier Christian Cruises brings top Christian artists onboard cruise ships, along with great national and international speakers, a smattering of renowned comedians and a backdrop of exotic locations from Cancun, Mexico to The Bahamas. PCC has found the right recipe for spiritual journeys of a lifetime designed to bring people closer to their Creator. Among the Premier Christian Cruises annual getaways are the K-LOVE Friends & Family Music Cruise, The Music Boat and The Girls Get-A-Way Cruise. Over 40,000 passengers have experienced a Premier Christian Cruise over the last several years. For more information, visit www.PremierChristianCruises.com or follow on Twitter @Premiercruises.
About World Hope: With a mission to bring the hope and love of Christ to the hopeless, World Hope has a global missions program that includes extensive training and discipleship for the missionary field as well as hands-on outreaches currently established in Kenya, Nicaragua, and the Philippines. World Hope is a collection of people who are united together by a common vision: to restore those in need by giving them hope through Christ, fresh food, clean water, and an education. Visit www.weareworldhope.com or follow World Hope on Twitter @weareworldhope.
# # #
More information on artists and speakers for Music Boat 2011:
newsboys: Hosting the Music Boat 2011 are the Newsboys, the Grammy-nominated pop rock sensation from Australia. Join lead singer Michael Tait and his Newsboys bandmates - Jody Davis, Duncan Phillips and Jeff Frankenstein – as they rock out on the waves. With 14 releases to their credit, the band's latest studio album, "Born Again," debuted at No. 4 on the Billboard 200. It sold more than 45,000 copies the first week after release. The band also released its first Christmas project in 2010. http://www.newsboys.com
Chris Tomlin: Chances are if you've been in an American church over the past decade, you've sang one of Chris Tomlin's songs. With such worship anthems as "How Great Is Our God," "Jesus Messiah," "Amazing Grace (My Chains are Gone)" and "Our God," (which he co-wrote with Matt Redman), Tomlin is well-known and admired. In November, he released his seventh studio album, "And If Our God Is For Us" – on the heels of six No. 1 radio singles, two Grammy nominations, 14 Dove awards and two gold albums. Join Chris Tomlin and bandmates Jesse Reeves, Daniel Carson and John Owen Parish as they usher in an attitude of worship on The Music Boat 2011! http://www.christomlin.com
Mercy Me: Founded in Greenville, Texas, in 1994, MercyMe has created a legacy of hits, accolades and honors, including their mega-crossover "I Can Only Imagine." Recently, Billboard magazine dubbed "Word of God Speak" Christian song of the decade, while the band also took the moniker Christian Adult Contemporary Songs - Artist of the Decade. With more than 22 No. 1 songs and six of those ranked in the top 50 songs of the decade, the group has released five more studio albums, four of which have been certified gold, and a greatest hits album, along with Dove Awards and Grammy nominations. http://www.mercyme.org
Israel Houghton: With a "day job" as co-worship leader at Joel Osteen's church in Houston, Israel Houghton knows how to usher in an attitude of worship. That's just what they'll be doing on the Music Boat 2011. Hougton's latest release, Love God. Love People. earned him two GRAMMY Award nominations. He's already been honored GRAMMYs for his previous three CDs. Best known for his cross-cultural style that fuses gospel, jazz and rock, Houghton brings a unique sound to the stage. http://www.israelhoughton.net
Brandon Heath: Since his 2006 debut, Christian music's reigning Dove Award Male Vocalist of the Year, Brandon Heath has won an Emmy Award, been nominated for two GRAMMYs, an American Music Award, and holds multiple GMA Dove Awards. Heath's radio career includes three No. 1 hits, "I'm Not Who I Was," "Wait and See" and 2009's GMA Dove-winning Song of the Year, "Give Me Your Eyes." Heath releases his third studio CD in 2011. With his signature autobiographical style, Heath's lyrics celebrate God's heart and the pure immensity of His love. http://www.brandonheath.net
KJ-52: There is nothing easy to explain about KJ-52. From his name to his music, the Christian rapper remakes himself and his music at every turn. The stage name for Christian rapper Jonah Sorrentino originated from an alias "King J. Mac," which evolved into KJ and the 52 (which is pronounced five two) refers to the biblical story of Jesus feeding the multitude with five loaves and two fishes. He calls his latest Dove Award-winning album Five-Two Television "a concept album, biography, vehicle of humor and wisdom, sonic adventure, mirror to culture and society and evangelistic storytelling." Enough said. http://www.kj52.com
Salvador: With its wide range of Latino strands and contemporary pop songwriting, Salvador always gives a great show. Their latest album Aware offers an inspired collection of upbeat, pop-rock worship songs. Salvador is a fusion of talent from across the Western Hemisphere. Drummer Ben Cordonero hails from Nicaragua by way of Miami. Keyboardist Chris Bevins, who also handles some of the co-writing chores, calls Nashville home. Josh Gonzales on the Bass still resides in Austin, and Nic relocated to Music City with his wife, singer Jaci Velasquez. http://www.salvadorlive.com
Sanctus Real: With such No. 1 favorites as "Beautiful Day," "Everything About You," and "I'm Not Alright" rock worship band Sanctus Real released another resounding hit "Lead Me" - a husband's prayer to be the kind of man, husband and father God intends. Since 2002, the band has released five albums through Sparrow. Join them on The Music Boat as they exit the "Hungry For Love" tour. http://www.sanctusreal.com
Sidewalk Prophets: The band's two founding friends Dave Frey (vocals) and Ben McDonald (rhythm guiar) had no idea what was in store for them when their paths crossed at Anderson University eight years ago. They added Cal Joslin (bass) and Justin Nace (drums) with their debut album These Simple Truths, which featured the single "The Words I Would Say" and garnered the group the New Artist of the Year during the 2010 Dove Awards. These Simple Truths, the result of their intense work ethic and collaboration, explodes from the speakers with sparkling pop, raucous rock, and beautiful ballads. http://www.sidewalkprophets.com
Bone Hampton: The term "crossover" is seldom used to describe comedians, yet the word is the perfect descriptor for Bone Hampton, one of redemptive comedy's most well-traveled and in-demand funnymen. Bone's comedic smarts know no bounds - one day he can be seen working the crowd at a comedy club, the next he's doing his thing at a church gig, and the following he's making a splash on a hit sitcom. Bone credits his growing recognition to friends who think and act like him—co-laborers in the faith who believe it is possible to be a Christian and make it in showbiz. "I just like to have a good time," he says. "I just want to be the ringleader of the good time." http://bonehampton.com
Chris August: Singer and songwriter Chris August offers an honest collection in his sophomore release No Far Away with such memorable melodies as "Starry Night" and "Battle." Many of the songs tell his story – from brokenness to restoration - with a polished pop/rock sound and clean R&B influenced vocals. The polished crooner doesn't claim to have all of the answers, but presents a simplistic authenticity that recounts his life experiences infused with a desire to serve God. http://www.chrisaugustmusic.com
Paul Young: Wm. Paul Young was born a Canadian and raised among a Stone Age tribe by his missionary parents in the highlands of former New Guinea. He suffered great loss as a child and young adult and now enjoys the "wastefulness of grace" with his family in the Pacific Northwest. The Shack, the novel Young started in 2005 to explain to his six kids how he coped with tragedy, spent over a year on the New York Times Best-Seller List and has sold more than 11 million copies. http://www.windrumors.com
Tom Richter: As the pastor of New Hope Church in Jamaica Queens, NYC, Tom Richter preaches in the center of the most ethnically diverse county in the United States. Pastor Tom also speaks around the country with the simple goal to "make much of Jesus." He is president of Urban Impact, a mission's ministry designed to reach out to immigrants from "unreached people groups" as they arrive in New York. Pastor Tom and his family live happily in an apartment in Jamaica, Queens. http://www.tomrichter.com
Phillip and Amy Parham: When it comes to weight loss, Phillip and Amy Parham don't mind being called losers. The Parhams were contestants on NBC's "The Biggest Loser: Families" in 2008. During their season, they lost a combined total of 256 pounds - the highest percentage of weight loss of any married couple in "The Biggest Loser" history to date. They have been featured in national magazines, launched "The 90 Day Fitness Challenge," and released a book and DVD by the same name. Their goal is to share their trials and triumphs, while promoting wellness and fitness across the country. http://www.philandamyfitness.com
# # #


[2021]
Jan. | Feb. | March | April | May | June | July | Aug. | Sept. | Oct. | Nov. | Dec.
[2020]
Jan. | Feb. | March | April | May | June | July | Aug. | Sept. | Oct. | Nov. | Dec.
[2001 - 2020]
Visit our complete MUSIC NEWS ARCHIVE