JIM LABRIOLA OF "HOME IMPROVEMENT" FAME SIGNS WITH TRANSFORM MUSIC GROUP
Comedian Releases New Project In March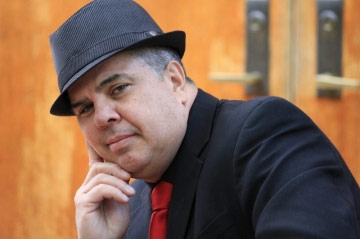 NEWS SOURCE: Savvy Media
January 4, 2011
(NASHVILLE, Tenn.) Jan. 4, 2011—Jim Labriola, best known for his role as Benny Baroni on ABC's hit comedy "Home Improvement," has signed to Nashville-based label Transform Music Group. Labriola will release his latest comedy CD, Heart Improvement, in March.
A favorite on the comedy club scene, guest star on multiple network sitcoms, and with motion picture appearances including Disney's "The Santa Clause," Labriola boasts a prolific career. In 1999, he dedicated his life to Christ and now travels nationally performing for churches as well as charity events, while speaking at business meetings and motivational seminars. Most recently he toured the country aboard the Tea Party Express alongside such notable figures as former Alaska Governor Sarah Palin.
Labriola's latest appointment is as Transform Music Group's first comedy artist. Transform Music Group CEO Matt Rogers comments, "Adding Jim Labriola to Transform is an honor. He has an amazing gift of bringing laughter to the masses during a time when people need to laugh. I couldn't be more proud to welcome him to the Transform family."
Labriola's first CD release in more than 6 years, Heart Improvement will feature comedy bits about everyday life experiences, including heart attacks, what it was like going to church before he became a believer, and growing up in an Italian family. Distributed via CLG Distribution, the project will be in stores nationwide March 22, 2011. Additional details are forthcoming.
For more information, visit www.hahajim.com.
About Transform Music Group
Transform Music Group, a division of Mattrix Media Group, was founded by Matt Rogers, a 15-year veteran of the Christian music industry. The foundation of Transform Music Group is based on Acts 4:13 "The members of the council were amazed when the boldness of Peter and John, for they could see that they were ordinary men with no special training in the Scriptures. They also recognized them as men who had been with Jesus." For more information, visit www.transform-music.com or www.twitter.com/transformmusicg.
About CLG Distribution
Nashville, Tenn.-based CLG Distribution is a distributor of music, video and other Christian-related product to the Christian and general markets. The company was founded in 2004 to create a flexible solution for accessing physical and digital distribution channels and to enable independent Christian rock, pop, gospel and worship acts to focus on what they do best - share their vision with the world through music. For more information, visit www.clgdistribution.com.
###


[2020]
Jan. | Feb. | March | April | May | June | July | Aug. | Sept. | Oct. | Nov. | Dec.
[2019]
Jan. | Feb. | March | April | May | June | July | Aug. | Sept. | Oct. | Nov. | Dec.
[2001 - 2018]
Visit our complete MUSIC NEWS ARCHIVE