HOUSE OF HEROES KICKS OFF THE NEW YEAR BY HITTING THE ROAD ON WINTER WONDERSLAM 2011
SUBURBA OUT NOW ON GOTEE RECORDS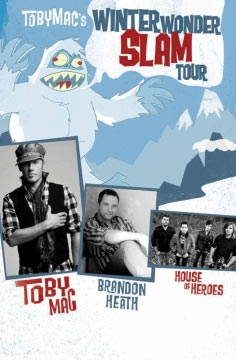 NEWS SOURCE: Independent Music Media
January 11, 2011
House of Heroes ended 2010 in style as one 'AP Recommends' in the December issue of Alternative Press and now the band glides into the new year and hits the road with Toby Mac and Brandon Heath on Winter Wonderslam 2011 with dates kicking off on January 14 in Tulsa, OK.
The band's latest release SUBURBA was deemed by HM as a "Radiant sparkle and layers on chain-gang vocals and multiple harmonies", while Alternative Press said "Suburba shows off what the masses have been missing: catchy pop songs with well-written lyrics. Suburba's songs remain full of power while retaining the delicate touch of songwriting craftsmanship" and Absolute Punk wrote "Tim Skipper has one of the best voices I've heard in a long, long time", produced by Mark Lee Townsend (Relient K, Deas Vail) and mixed by J.R. McNeely (Versa Emerge, He Is We) SURBUBA is out now.
See them on Winter Wonderslam 2011:
1/14 Mabee Center Tulsa, OK
1/15 Hartman Arena Wichita, KA
1/20 Rock Church San Diego, CA
1/21 First Assembly Phoenix, AZ
1/22 Gibson Amphitheater Los Angeles, CA
1/23 UC Davis Sacramento, CA
1/27 AESC Abbotsford, BC
1/28 Overlake Church Redmond, WA
1/29 Rose Garden Portland, OR
1/30 Toyota Center Kennewick, WA
2/1 Casper Events Center Casper, WY
2/3 Denver Coliseum Denver, CO
2/4 Mid-America Center Council Bluffs, IA
2/5 McLeod Center Cedar Falls, IA
2/17 Bojangles Charlotte, NC
2/18 Canton Civic Center Canton, OH
2/24 Hobart Arena Troy, OH
2/25 Capitol Theater Wheeling, WV
2/26 Patriot Center Fairfax, VA
2/27 Performing Arts Theater Philadelphia, PA
For more info on House of Heroes, visit the JFH Artists Database.


[2019]
Jan. | Feb. | March | April | May | June | July | Aug. | Sept. | Oct. | Nov. | Dec.
[2018]
Jan. | Feb. | March | April | May | June | July | Aug. | Sept. | Oct. | Nov. | Dec.
[2001 - 2017]
Visit our complete MUSIC NEWS ARCHIVE