100 Pounds Lighter, Mandisa to Unveil What If We Were Real on April 5,
Exactly Five Years After Leaving American Idol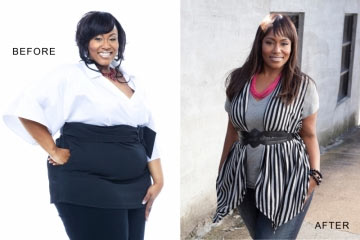 Mandisa in 2006 during her American Idol season, and now, in 2011 after shedding 100 lbs!
NEWS SOURCE: The M Collective
February 18, 2011
Nashville, Tenn. Feb. 18, 2011... GRAMMY® nominee and American Idol Alum Mandisa has reached her goal of shedding an incredible 100 pounds, and five years to the day she left American Idol, April 5th, will unveil her third recording, What If We Were Real.
The news of Mandisa's weight loss arrived this week as her first single, "Stronger," was released to digital retailers. To purchase the single, visit http://itunes.apple.com/us/album/stronger-single/id416340994. Inspired by the belief that surviving hardship makes us more resilient, the tune sums up the past year of Mandisa's life.
"I can't think of a better time to have finally lost 100lbs," Mandisa remarked this week. "How appropriate that on the day my single 'Stronger' is released, proclaiming that God is able to take us through the difficult times and bring us out stronger, He gives me a physical manifestation of that truth!"
With a goal of maintaining a healthy lifestyle, Mandisa hired her own trainer and worked diligently to keep a very healthy diet to drop the pounds, learning how to cook and get creative on the road, where healthy meals aren't always easy to come by.
Immediately after weighing in, Mandisa went to her 23,000 plus Twitter followers to share the news. Her update caused such commotion on Twitter that the GRAMMY ® nominee was a trending topic in Nashville as The View's Sherri Shepherd, Bart Millard of MercyMe, Natalie Grant and Mark Hall of Casting Crowns took to their Twitter accounts to send their congratulations. The support and feedback from Mandisa's Twitter following was also among the inspiration for her new album, What If We Were Real. Recalling a moment where she bared her soul on Twitter, Mandisa said, "I had gained weight and was so frustrated at that moment that I said so on Twitter. I said, 'I'm fed-up and over it.' I was feeling embarrassed and ashamed. I realized that I had only talked about how great things were. I never let people in when they were not. It was then that I decided I'd talk about the bad things too—that I'd be real."
"Stronger" is also being well received at radio ranking in at No. 19 National Christian Audience Chart, No. 20 AC Monitor and No. 15 AC Indicator. 75 stations are already playing the song.
Marked by its honesty and authenticity, What If We Were Real is a welcomed addition in the line up from Mandisa whose previous studio albums have conquered exploration of inner grace and personal emancipation. The 11 songs of joy, struggle, worship and redemption encourage shining the light on who we really are, including both the good and the bad. What If We Were Real was produced from a trio of talent including Chris Stevens (Carrie Underwood, TobyMac), Dan Muckala (Amy Grant, Brandon Heath) and Chance Scoggins (Natalie Grant).
# # #
Two time GRAMMY ® nominee Mandisa's discography includes True Beauty, It's Christmas, Freedom and now What If We Were Real on Sparrow Records. The season 5 American Idol finalist is also an author with the release of "Idoleyes: My New Perspective on Faith, Fat & Fame." Mandisa was one of only 26 Idols selected to open Walt Disney World's American Idol Experience in early 2009. Known for her transparency, Mandisa has been seen on Today, CNN Online, E! News Live as well as the pages of US Weekly and People discussing her weight loss journey. She is also a multiple GMA Dove Award nominee.
For more info on Mandisa, visit the JFH Artists Database.


[2022]
Jan. | Feb. | March | April | May | June | July | Aug. | Sept. | Oct. | Nov. | Dec.
[2021]
Jan. | Feb. | March | April | May | June | July | Aug. | Sept. | Oct. | Nov. | Dec.
[2001 - 2021]
Visit our complete MUSIC NEWS ARCHIVE