ACCLAIMED ROCK BAND THIRD DAY JOINS FORCES WITH GCU, OFFERING FANS A POOL OF $1 MILLION IN SCHOLARSHIPS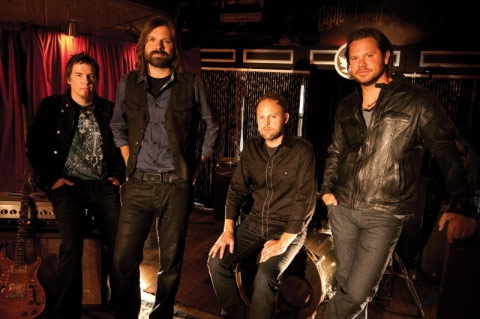 Third Day (L-R): Mark Lee, Mac Powell, David Carr and Tai Anderson
NEWS SOURCE: Provident Label Group
February 23, 2011
(NASHVILLE, Tenn.) Feb. 15, 2011 – Members of GRAMMY, Dove and American Music Award-winning rock band, Third Day, know that moving ahead in life can be amplified by having a quality education. It's for this reason that the band, known as one of the greatest live touring artists, has teamed with Arizona-based Grand Canyon University (GCU) for its upcoming spring Make Your Move tour to offer its fans a chance to advance with a college degree.
At each stop on Third Day's upcoming Make Your Move tour – dates available at www.ThirdDay.com – one qualified fan will be selected to receive a $10,000 scholarship to GCU, one of the country's fastest-growing, non-denominational, Christian universities with both online programming and a thriving physical campus in Phoenix. GCU's overall partnership with the Third Day tour includes up to $1 million in scholarships specifically allocated to Third Day fans during the duration of the band's spring and fall tours.
"Grand Canyon University is flexible, offering the support you need to succeed in its programs," shares Mac Powell. "Third Day is proud to partner with GCU on the tour, and thankful that it is offering such generous scholarships to our fans."
The need for access to higher education in a busy world is not only demanded by the fans, but by the band as well. As a testament to this, Third Day band members Mark Lee, Tai Anderson and David Carr are all seeking completion of their degrees through GCU, spending time on the road, before and after meeting fans and cranking out electrifying performances, immersing themselves in continuing their educations through online classes.
"This is an ideal partnership for us," said GCU CEO Brian Mueller. "We can demonstrate to Third Day fans throughout the country the value, ease and flexibility of obtaining a college degree while maintaining a busy lifestyle, as well as help fans move forward with an institution that shares their same goals and purpose."
"Third Day never wants to encourage our fans to do something that we're not willing to do ourselves," notes Tai Anderson. "We wanted to experience what GCU is all about firsthand, so we enrolled in classes at the start of this year. Like so many of our fellow 'Lopes,' we left college to pursue our careers before we finished our degrees. At the time, we had to choose between Third Day and going to school. With GCU, we no longer have to choose. We're working toward our degrees on the tour bus!"
Interested fans can be considered for the scholarships by completing an electronic application form via computers at the GCU booth at every concert location, where they can also learn more about the scholarship offer and the university. Scholarship recipients will be notified by GCU soon after the concert.
Integral to establishing this partnership was Barry Landis of Landis Entertainment (http://www.landisentertainment.com), an industry veteran who advises clients on marketing to the faith-based community.
About Grand Canyon University:
Founded in 1949, Grand Canyon University is Arizona's private university. The prestigious Christian university is regionally accredited and is recognized as offering some of the best education programs in the nation. Grand Canyon University offers traditional campus-based and online doctoral, bachelor's and master's degree programs through the Ken Blanchard College of Business, College of Education, College of Nursing and Health Sciences, College of Liberal Arts, College of Fine Arts and Production and the College of Doctoral Studies. GCU emphasizes individual attention for both traditional undergraduate students as well as the working professional. For more information about GCU, visit http://gcu.edu.
About Third Day:
Over the past decade, the Atlanta-based, multi-Platinum rock band Third Day (made up of members Mac Powell, Tai Anderson, David Carr and Mark Lee) has racked up 27 No. 1 radio singles and sold more than 7 million albums which reflect an impressive 2 RIAA Platinum and 8 Gold Certifications. A recent Georgia Music Hall of Fame inductee (2009), Third Day has garnered 24 career GMA Dove Awards from 47 nominations, 4 GRAMMY Awards (with 11 career nominations), an American Music Award (with 3 American Music Award nominations) and multiple ASCAP honors for songwriting.
Third Day has been featured by top media outlets including "The Tonight Show with Jay Leno" (NBC), "The Late Late Show with Craig Ferguson" (CBS), "60 Minutes" (CBS), ABC's "Nightline," USA Today, the New York Times, and even graced the cover of Billboard magazine, which called Third Day "one of the best rock bands." As a top-ranked touring band, according to Pollstar magazine, Third Day has played for audiences reaching into the millions. For additional information about Third Day please visit www.ThirdDay.com.
THIRD DAY / MAKE YOUR MOVE TOUR – SPRING 2011
* More dates to be added. All dates are subject to change without notice.
FEBRUARY
2/18 Mercedes, TX RGV Livestock Show Grounds
2/19 Longview, TX S.E. Belcher Performance Hall
MARCH 3/10 Indianapolis, IN Northview Church
3/11 Brookfield, WI Elmbrook Church
3/12 Davenport, IA Adler Theater
3/13 Grand Rapids, MI Sunshine Community Church
3/18 Monroe, LA Fant-Ewing Coliseum
3/19 Grand Prairie, TX Verizon Theater
3/20 Joplin, MO Joplin Memorial Hall
3/24 Beaver Falls, PA Geneva College
3/25 Grove City, OH Grove City Church
3/26 Johnstown, PA War Memorial Arena
3/27 Charleston, WV Charleston Civic Center
3/31 Johnson City, TN Freedom Hall
APRIL 4/1 Fairfax, VA Patriot Center
4/14 Memphis, TN Hope Church
4/15 Knoxville, TN Knoxville Coliseum
4/16 Greenville, SC TBA
4/17 Macon, GA Centerplex
4/28 Valparaiso, IN Valparaiso Nazarene Church
4/29 Chicago, IL Life Changers
4/30 Greenville, IL Agape Festival
MAY 5/1 Kansas City, MO Municipal Auditorium Arena
5/4 Salem, VA Salem Civic Center
5/5 Louisville, KY TBA
5/6 Cincinnati, OH Landmark Church
5/7 Saginaw, MI Dow Events Center Theatre
5/12 Chattanooga, TN Memorial Auditorium
5/13 Greensboro, NC Special Events Center
5/14 Nashville, TN Ryman Auditorium
5/19 Jacksonville, FL Veterans Memorial Arena
5/20 Ft. Myers, FL Germain Arena
5/21 West Palm Beach, FL Cruzan Amphitheater
For the most up-to-date tour information, please visit www.ThirdDay.com.
# # #
For more info on Third Day, visit the JFH Artists Database.


[2022]
Jan. | Feb. | March | April | May | June | July | Aug. | Sept. | Oct. | Nov. | Dec.
[2021]
Jan. | Feb. | March | April | May | June | July | Aug. | Sept. | Oct. | Nov. | Dec.
[2001 - 2021]
Visit our complete MUSIC NEWS ARCHIVE