VEGGIETALES®: 'TWAS THE NIGHT BEFORE EASTER DVD IN STORES SATURDAY!
FIRST NEW EASTER TITLE FROM VEGGIETALES IN SEVEN YEARS DRAWS FAVOR FROM THE CRITICS!

DVD Releases Simultaneously with All New Worship CD,
VeggieTales®: Hosanna! Today's Top Worship Songs For Kids!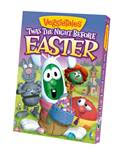 NEWS SOURCE: Hoganson Media
March 4, 2011
In Christian retail stores Saturday, March 5 and everywhere March 8, VeggieTales: 'Twas the Night Before Easter is garnering significant media attention in trade and consumer outlets far and wide. Crosswalk.com says, "'Twas the Night Before Easter contrasts the popular sentiment that 'bigger is better' with the gospel truth that Jesus' sacrificial death and resurrection is our true source of hope. In this VeggieTales, the gospel message shines bright and clear."
Examiner.com says, "Following in the VeggieTales tradition, VeggieTales: 'Twas the Night Before Easter blends important lessons with laugh-out-loud funny moments…another must-have for the Veggie-fans of all ages."
ChristianCinema.com adds, "Melinda Doolittle hits all the right notes as the newest vegetable in the crisper drawer. With their usual wit and pop culture references, VeggieTales is 'eggsactly' what the bunny ordered for Easter," while CBA Retailers+Resources notes that "'Twas the Night Before Easter focuses on helping others in need—and not forgetting the true meaning of Easter according to Mark 10:45…"
ON THE RADIO: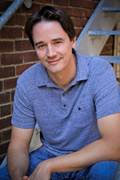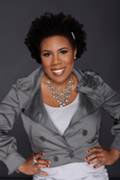 VEGGIETALES CO-CREATOR MIKE NAWROCKI AND VOICE OF "LARRY THE CUCUMBER" TEAMS UP
WITH AMERICAN IDOL TOP FINALIST AND HI-FI RECORDING ARTIST MELINDA DOOLITTLE!
Next week, VeggieTales Co-creator and voice of "Larry the Cucumber" Mike Nawrocki and American Idol Top Finalist Melinda Doolittle will team up for a national radio tour in support of the new Easter project. Nawrocki and Doolittle will discuss the brand new Easter title and Doolittle's involvement with 'Twas the Night Before Easter on numerous national radio networks and top market stations including American Family Radio, Salem Broadcasting's The FISH, IRN/USA Radio Network, Ryan Dobson's Grounded Radio, and many more.
voiced by Melinda Doolittle. Doolittle's distinct yet familiar vocals can be heard on "Up With Bunnies" and "When I Think About Easter."
"The coolest thing about Cassie is that she's so much like me...," says Doolittle. "My very favorite moment is when Cassie is trying to sing the 'Up With Bunnies' song… Everybody is dressed up like bunnies. It's just a big hot mess, but she's really trying to make it work."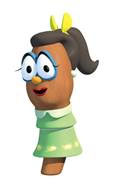 As a special treat for Veggie fans, Big Idea introduces the all new character and singing sensation "Cassie Cassava" Doolittle adds, "I love the way VeggieTales takes a story and in a very fun way lets you know the right thing to do. I love a chocolate bunny any day, but I've been a part of being able to make a difference and that is more rewarding than any chocolate bunny I've ever had."
NEW PARTNERSHIP FORMED, TO PROVIDE OPPORTUNITIES TO HELP CHILDREN IN NEED THROUGH CHILD SPONSORSHIP:
Big Idea is partnering with Christian charity World Vision as part of the campaign in order to build a greater awareness of how families can help and care for those in need through child sponsorship. To learn more about opportunities to help or to sponsor a child, please visit www.worldvision.org or pick up a child sponsorship packet at any Christian retail store wherever there are VeggieTales and World Vision displays.
VEGGIETALES: HOSANNA! TODAY'S TOP WORSHIP SONGS FOR KIDS! CD AVAILABLE TOMORROW!
The DVD launch of 'Twas the Night Before Easter will coincide with the street date of the all new worship CD, VeggieTales: Hosanna! Today's Top Worship Songs For Kids! The 10-song project features the vocal talents of GRAMMY and Dove Award-winning recording artists Amy Grant and Casting Crowns' Mark Hall.
TWAS THE NIGHT BEFORE EASTER ON VEGGIETALES.COM!


Big Idea launched its all new VeggieTales-themed website for children at www.VeggieTales.com on March 1, 2011. Check out the highly interactive and entertaining new site for fun and games, as well as more information on Big Idea's upcoming projects, including 'Twas the Night Before Easter.
# # #


[2021]
Jan. | Feb. | March | April | May | June | July | Aug. | Sept. | Oct. | Nov. | Dec.
[2020]
Jan. | Feb. | March | April | May | June | July | Aug. | Sept. | Oct. | Nov. | Dec.
[2001 - 2020]
Visit our complete MUSIC NEWS ARCHIVE