MERCYME EMBARKS ON SECOND LEG OF LOVEWELL LIVE THIS SPRING
Award-Winning Female Vocalist Natalie Grant and
GRAMMY® Nominated Artist Brandon Heath
Share the Stage for Upcoming Tour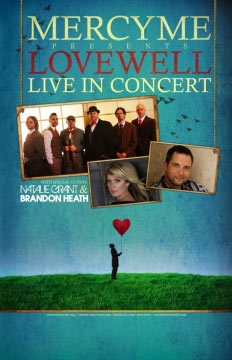 NEWS SOURCE: The M Collective
March 17, 2011
(Nashville, TN…March 17, 2011… This spring multi-platinum selling band MercyMe will embark on the second leg of the Lovewell Live tour. Accompanying them on the stage will be award-winning female vocalist Natalie Grant and GRAMMY® nominated artist Brandon Heath. The tour will launch on April 7 in Beaumont, TX and entertain audiences through the season. For a full list of tour dates, please visit www.mercyme.org.
In the midst of Lovewell Live, on April 9th in Dallas, TX MercyMe will wrap up the 2011 Rock & Worship Roadshow with The Afters, Natalie Grant, Brandon Heath and special guest Jeff Johnson. Then the GRAMMY ® nominated band will plunge back into Lovewell Live and finish out the tour.
Lovewell Live is inspired by their latest album, The Generous Mr. Lovewell (INO Records), which revolves around a fictional character the band created who reminds people that they simply need to love others well. It is from this idea that has generated a domino effect around America of people taking that extra step to lend a helping hand to their neighbor. The band has also been continuously living out the message throughout the year by serving at Rescue Missions, assisting with can food drives, assisting with disaster relief and more.
Featured on The Generous Mr. Lovewell is the No. 1 hit "All of Creation," nominated for "Song of the Year" and "Pop/Contemporary Recorded Song of the Year" for the 42nd Annual Dove Awards. They are also nominated for "Group of the Year" making this their 12th Dove nomination. The record also includes their most recent chart-topper "Beautiful," which dominated the Billboard Christian AC Monitored, Indicator and Inspo charts taking the No. 1 spot.
For more information on MercyMe and the Lovewell Live tour, please visit www.mercyme.org.
###
About MercyMe:
Since their debut in 2001, Grammy-nominated, American Music Award and multiple GMA Dove Award winners MercyMe have sold over 6 million units in CD and DVD sales, while being one of few Contemporary Christian music groups to have had all of their recordings certified Gold or Platinum, as well as garner 23 No.1 multi-format Christian radio singles, and four consecutive mainstream radio hits with "I Can Only Imagine," (No. 4 AC/top 25 on Top 40/Hot AC), "Here With Me" (No. 4 AC), "Homesick" (top 10 AC), and "So Long Self." In 2009 BILLBOARD named MercyMe's "Word Of God Speak" the #1 Song of The Decade and the group the #1 Christian Songs Artist of the Decade, with an additional #1 as the Christian AC Song Artist of The Decade as one of the industry's most notable talents. MercyMe recently made history as "I Can Only Imagine" surpassed 1 million digital downloads, making it the first song in Christian music to go platinum in the digital domain. The multi-platinum selling band has sold out venues including Radio City Music Hall and has been seen on The Tonight Show, CNN, Fox New Channel's Fox & Friends, ABC News, CBS' The Early Show, and on the pages of Entertainment Weekly, The New York Times, USA Today, Billboard, and more. www.mercyme.org
About Natalie Grant:
A powerhouse vocalist, heart-gripping songwriter and charismatic performer, Natalie Grant has an unshakable determination to remind us of the simple significance of love, and the revolutionary power that it carries, as expressed on her latest project, Love Revolution. Released in August 2010, Love Revolution gave Natalie the highest-selling debut of her career and continues to do well, with its latest single "Your Great Name" steadily climbing the radio charts.
As GMA Female Vocalist of the Year for four consecutive years (2006-2009) and the top-selling Adult Contemporary female solo artist in 2005, 2006 and 2008, Grant is among a select number of artists to have achieved a formidable foothold at mainstream media and radio. Her 2005 breakthrough album, Awaken, received RIAA Gold certification and its follow-up, Relentless, has experienced significant sales since its 2008 release. Despite these accomplishments, it is the message of the Gospel, and the revolutionary power of love it carries, that she waves as her banner and her hope.
Beyond her artistry, she declares this message as an outspoken advocate for victims of human trafficking. The Home Foundation, which Grant created in 2005, has raised over a quarter of a million dollars to fight the trafficking of women and children for the purpose of sexual exploitation. She works to balance these endeavors with her greatest calling—as a wife, and mother of three. www.nataliegrant.com
About Brandon Heath:
Christian music's reigning, twice-honored Male Vocalist of the Year (2009 and 2010) Brandon Heath possesses a true songwriter's gift of making the personal universal. In January, Heath debuted his third studio album, titled Leaving Eden, at No. 1 on Billboard and iTunes Christian sales charts. His soaring radio career includes four No.1 hits, "Your Love," "I'm Not Who I Was," "Wait and See" and 2009's GMA Dove-winning Song of the Year, and RIAA Gold digital single, "Give Me Your Eyes." Brandon first began writing at age 13 and credits his hometown's legendary hotspot for songwriters, the Bluebird Café, as the place he first experienced music that moved him.
Since his 2006 debut, Heath has won an Emmy Award, been nominated for two GRAMMYs, an American Music Award, and holds multiple GMA Dove Awards. The Nashville native has been featured on the "CBS Evening News with Katie Couric," and in the pages of the Wall Street Journal and the Sunday edition of The New York Times.
Off stage, Heath seeks opportunities to merge his public platform with his heart for community, regularly working with Young Life, Blood:Water Mission, Restore International and unofficially volunteering for many other human rights agencies on a global scale. Heath also created the annual "Love Your Neighbor" benefit with Dove-winning songwriter Jason Ingram, in partnership with Fellowship Bible Church in Brentwood, Tennessee, for a night of music to raise funds and gather volunteers for a focused need in the Nashville community. The event has raised financial support for flood and tornado victims, and an uninsured high school student's eyesight-saving surgery.
# # #
For more info on MercyMe, visit the JFH Artists Database.


[2021]
Jan. | Feb. | March | April | May | June | July | Aug. | Sept. | Oct. | Nov. | Dec.
[2020]
Jan. | Feb. | March | April | May | June | July | Aug. | Sept. | Oct. | Nov. | Dec.
[2001 - 2020]
Visit our complete MUSIC NEWS ARCHIVE