Integrity Music's Brian Doerksen Brings His Worship Music To Hour of Power This Weekend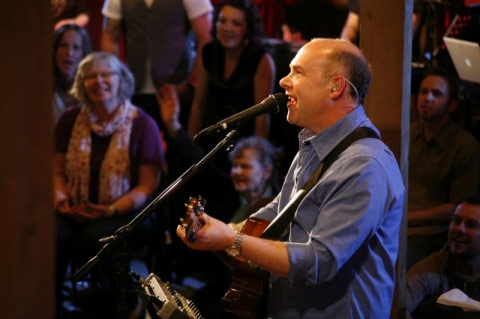 NEWS SOURCE: Spinhouse PR
March 18, 2011
March 18, 2011 – Integrity Music's Brian Doerksen will be the worship music guest on this weekend's television broadcast of the international broadcast ministry Hour of Power. Doerksen sang music from his current live worship CD Level Ground. The program airs on national cable networks Lifetime and TBN as well as being syndicated in local markets throughout the U.S. The first Hour of Power airings will be on TBN on Saturday, March 19 at 9 p.m. ET. and on Lifetime on Sunday, March 20 at 8:00 a.m. ET/PT. For detailed times and broadcast outlets, visit www.hourofpower.org.
The Covenant, Juno and GMA International Award winner released Level Ground in February. The CD was inspired by Doerksen's desire to produce a live recording that placed the musicians and singers among the worshippers and embrace the intimacy and simplicity of a small group while reserving the stage for people to share stories of grace. The live recording took place at "The Barn," a gathering place in Doerksen's hometown of Abbotsford, B.C. The result: a 13-song CD and a DVD that features music and inspiring stories of lives transformed by the power of God.
Brian Doerksen is more than a songwriter and worship artist. He is also an author, conference speaker and pastor. His songs, which are sung in churches around the world, include "Come, Now is the Time to Worship", "Hope of the Nations", "Faithful One", "Refiner's Fire", "Hallelujah (Your Love is Amazing)" and "Holy God". He has recorded six albums in partnership with Integrity Music – Level Ground; It's Time; Holy God; Live in Europe; Today and You Shine. For more information on Brian Doerksen, visit www.briandoerksen.com or www.integritymusic.com.
The internationally televised Hour of Power is telecast weekly from the Crystal Cathedral in Garden Grove, California. With a local congregation of over 10,000 members, the televised Sunday worship service reaches the homes and hearts of millions worldwide. Currently, the program is telecast via Lifetime cable every Sunday, 8 am Eastern/Pacific, and 7 am Central. Every Saturday, watch "Hour of Power" on TBN (Trinity Broadcast Network) at 6 pm Pacific, 8 pm Central, and 9 pm Central. Current and archived "Hour of Power" programs are also available 24 hours every day on this website, www.hourofpower.org.


[2021]
Jan. | Feb. | March | April | May | June | July | Aug. | Sept. | Oct. | Nov. | Dec.
[2020]
Jan. | Feb. | March | April | May | June | July | Aug. | Sept. | Oct. | Nov. | Dec.
[2001 - 2020]
Visit our complete MUSIC NEWS ARCHIVE