MXPX / TUMBLEDOWN / ARTHUR FRONTMAN MIKE HERRERA SETS OUT ON AMERICAN SOLO ACOUSTIC TOUR
Mike Herrera: Live From The Basement Album To Be Released On April 21

Live Set List To Include MxPx, Tumbledown and Arthur Hits; Exclusive Tour T-Shirt and Bundle Merch Packages Will Be Available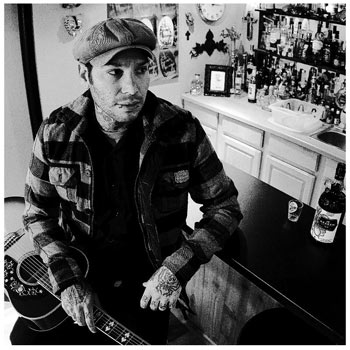 NEWS SOURCE: kelleemack pr
April 14, 2011
Los Angeles, CA, April 13, 2011 - After continuous requests from fans, Bremerton, WA musician MIKE HERRERA will finally be making his way across the U.S. to the East Coast for a month-long acoustic tour with Gasoline Heart's Louis DeFabrizio. Well know as the frontman of punk-pop trio MXPX, Herrera has broadened his fanbase with the debut of his alt-country band, TUMBLEDOWN, and tapped into his 50's/60's melodic rock side project ARTHUR late last year.Herrera has written his way into his fan's hearts over the course of his 17-year long career, selling more than 1.5 million records and touring the world. With an endless archive of tracks to choose from, Herrera will be performing a highly anticipated set list full of MXPX, ARTHUR and TUMBLEDOWN hits. With the set lists varying from city to city, fans are encouraged to shout out their favorite tracks for a possible impromptu addition.
"I'm excited to finally be able to reach our East Coast fans who have been waiting too long for one of my bands to come through town," said Herrera. "This tour will allow me to truly connect with MxPx, Arthur and Tumbledown fans in an intimate setting, which will hopefully suffice the long wait!"
In addition to special tour merch packages, the tour will be the first chance for fans to purchase Mike Herrera: Live From The Basement, a release that truly captures the essence of the tour. "I don't want fans to think this is a solo album," said Herrera. "It's just a live recording of me, performing my songs in my basement. I want fans to be able to take a similar version of what they heard on this tour home with them." The album will be available online starting the first day of the tour, Thursday, April 21 through www.mxpx.com and www.tumbledownhq.com only.
MXPX formed in Bremerton, WA in 1993. Since then, they have released numerous albums, singles, EP's, and DVD's. Their most recent release, Left Coast Punk EP (2009) was recorded in Herrera's studio, Monkey Trench, and released on their own record label, Rock City Recording Company. MXPX are currently in the studio working on a new album. TUMBLEDOWN release their sophomore album, Empty Bottle (2010) via End Sounds to great critical acclaim and will be releasing a new single this summer. ARTHUR released their long awaited full-length album, Watch The Years Crawl By (2010), through Rock City Recording Company, a follow-up to their 1999 EP, Loneliness Is Bliss.
MIKE HERRERA: LIVE FROM THE BASEMENT Track Listing:
1. Doing Time (Live Acoustic)
2. Empty Bottle (Live Acoustic)
3. Drowning (Live Acoustic)
4. Arrested In El Paso Blues (Live Acoustic)
5. Secret Weapon (Live Acoustic)
6. Bad News (Live Acoustic)
7. Never Better Than Now (Live Acoustic)
8. Butcher Of San Antone (Live Acoustic)
9. Don't Walk Away (Live Acoustic)
10. Just Seen A Face (Live Acoustic)
11. Ballad Of A Factory Man (Live Acoustic)
12. Son Of A Gun (Live Acoustic)
13. Drowning Outtake 1 (Incomplete)
Current Tour Itinerary for MIKE HERRERA:
w/ Louis DeFabrizio of Gasoline Heart
April 21 - Brooklyn, NY @ Pete's Candy Store
April 22 - Amityville, NY @ Ollies Point Bar and Grille
April 23 - Philadelphia, PA @ The Fire
April 24 - Baltimore, MD @ The Ottobar Downstairs
April 25 - Huntington, WV @ Shamrock
April 26 - Charlotte, NC @ The Milestone
April 27 - Greenville, SC @ Fatso's
April 28 - Atlanta, GA @ Drunken Unicorn
April 29 - Orlando, FL @ McRaney's
April 30 - St. Pete, FL @ Local 662
May 1 - Tallahassee, FL @ The Engine Room
May 2 - Anniston, AL @ The Smoking Moose
May 3 - Chattanooga, TN @ The Warehouse
May 4 - Nashville, TN @ The Exit/In
For more info on MxPx, visit the JFH Artists Database.


[2022]
Jan. | Feb. | March | April | May | June | July | Aug. | Sept. | Oct. | Nov. | Dec.
[2021]
Jan. | Feb. | March | April | May | June | July | Aug. | Sept. | Oct. | Nov. | Dec.
[2001 - 2021]
Visit our complete MUSIC NEWS ARCHIVE