Chris Tomlin and iTunes ® Partner Up for Exclusive Music Video Premiere of
"I Lift My Hands"
And If Our God Is For Us... Available for $7.99 for Limited Time Only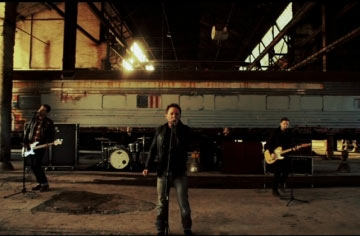 NEWS SOURCE: The M Collective
May 17, 2011
(Nashville, Tenn) May 17, 2011--Starting today, one of the most successful and influential artists in contemporary Christian music, Chris Tomlin is partnering up with iTunes® for an exclusive premiere of his brand new music video "I Lift My Hands," the latest single from his seventh record And If Our God Is For Us...
"I think the song is really saying that it's one thing to lift our hands in celebration and lift our hands in the triumph and in the victory," explains Tomlin. "It's another to lift our hands in the struggle and to lift our hands to God in the midst of, 'Lord, I don't even know what's coming. Life is coming at me hard.' To lift your hands to God and say, 'I just cry to you for help. I cry to you for mercy, God.' This song is also a song of hope. One of the main phrases of the song is, 'Let faith arise,' and I think that is what the song is about - let faith arise in us as we lift our hands to God, as we stretch out our hands to God in hope, as we cry out to Him. I'm so thankful that God would allow us to carry such a powerful song to people."
"I Lift My Hands," co-written by Tomlin, Matt Maher and Louie Giglio, has been at radio for just a few weeks and has already been picked up by over 54 stations, gaining each week while climbing the Top 20 on the National Christian Audience Chart, AC Indicator and AC Monitored Chart. This follows the first hit single from And If Our God Is For Us... "I Will Follow."
In addition to launching his new music video, for the next two weeks fans can purchase the chart-topping album for only $7.99 exclusively at iTunes ®.
Tomlin recently wrapped a largely sold-out spring tour and will soon hit the road for the summer festival circuit for several headline performances. This fall, Tomlin and Giglio will return to the well-received And If Our God If For Us... Tour for an extended season of 18 shows. For more information on Chris Tomlin, please visit www.christomlin.com.
###
About Chris Tomlin:
With seven records, nine No. 1 radio singles, three GRAMMY nominations, 18 Dove Awards, a platinum and two gold albums to his credit, Chris Tomlin is among the most well-known and influential artists in contemporary Christian music. Referred to by Time Magazine as "most likely the most often sung artist anywhere," Tomlin also has 15 of the Top 100 CCLI songs with 4 of them being in the top 10. ASCAP's 2007 Songwriter of the Year, Tomlin's "How Great Is Our God" was his first No. 1 on the CCLI Top 25, moving to No. 1 after becoming one of the fasting rising modern day hymns in CCLI chart history. In addition to having sold more than 3.1 million albums and over 3.7 million digital tracks, Tomlin made history as his single "Jesus Messiah" (Hello Love) garnered 97 adds at radio its first week and skyrocketed to No. 1, making it the biggest ever add date in Christian Radio history. In the midst of his record breaking success, and continuing his role as worship leader at Passion City Church in Atlanta, GA, Tomlin continues touring and leading at Passion Conference gatherings across the US and worldwide.
About sixstepsrecords:
Founded in 2000 by Louie Giglio, sixstepsrecords ( http://www.sixstepsrecords.com) is a worship label and a division of Passion Conferences. sixstepsrecords' artists include Chris Tomlin (And If Our God Is For Us…), David Crowder* Band (Church Music), Charlie Hall (The Rising), Matt Redman (We Shall Not Be Shaken), Christy Nockels (Life Light Up), Kristian Stanfill (Mountains Move), and Passion (Passion: Here For You). The label partners with Sparrow Records/EMI CMG Label Group for A&R, marketing, sales and distribution operations.
About EMI CMG Label Group:
Brentwood, Tennessee-based EMI CMG Label Group is comprised of Sparrow Records, Forefront Records, and Credential Recordings, in addition to providing A&R and marketing support for sixstepsrecords via a joint venture and licensing partnership. Balancing freedom, discipline, creativity, profitability and ministry, EMI CMG Label Group strives for excellence in artist development. The Label Group is a division of EMI Christian Music Group. For further information, please visit http://www.emicmg.com.
For more info on Chris Tomlin, visit the JFH Artists Database.


[2022]
Jan. | Feb. | March | April | May | June | July | Aug. | Sept. | Oct. | Nov. | Dec.
[2021]
Jan. | Feb. | March | April | May | June | July | Aug. | Sept. | Oct. | Nov. | Dec.
[2001 - 2021]
Visit our complete MUSIC NEWS ARCHIVE