A PLEA FOR PURGING Re-Sign with Facedown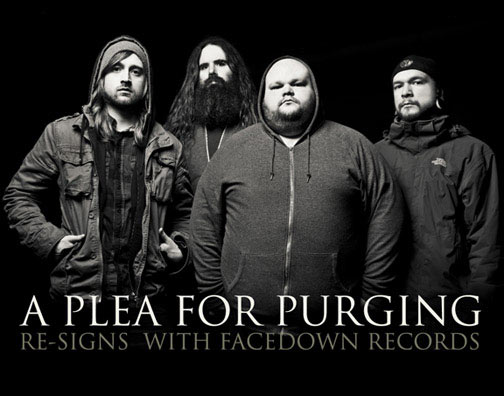 NEWS SOURCE: Facedown Records
May 26, 2011
From Facedown Records today: "We are proud to announce the re-signing of A Plea For Purging to Facedown Records! A Plea For Purging came to Facedown Records in 2007 with a reputation for fire-breathing and amazing technical ability. The band has since released three albums, the most recent being 2010's The Marriage of Heaven and Hell, a terrifyingly honest look at the age old wolf-in-sheep's-clothing theme and an auditory thrill. Now the band is looking toward releasing the follow up to The Marriage with Facedown Records in late 2011.
Label head Jason Dunn says "It's been a privilege to work alongside of the Plea guys, both as a band and as individuals for the past 4 years and I am honored to be able to extend that working relationship. Plea have grown with every album so I am very excited to see where this next album takes them."
A Plea for Purging will be heading into Random Awesome studio in August to record with Josh Schroeder.
Andy Atkins, front man for Plea had this to say about the band's decision to re-sign:
Though we are still a very small band, 4 years ago when we were absolutely nothing, Facedown and the Dunn family believed in us enough to invest their time and money into us. We were some n00bs from Tennessee that thought we knew everything but really knew nothing. With Facedown's backing, we have been able to travel the world and meet tons of great people through our music. They have always supported us and given us complete artistic freedom. With that being said, it only seems right to continue on with the supportive team we have behind us. We are proud to continue working from within the Facedown Family.
# # #
For more info on A Plea For Purging, visit the JFH Artists Database.


[2022]
Jan. | Feb. | March | April | May | June | July | Aug. | Sept. | Oct. | Nov. | Dec.
[2021]
Jan. | Feb. | March | April | May | June | July | Aug. | Sept. | Oct. | Nov. | Dec.
[2001 - 2021]
Visit our complete MUSIC NEWS ARCHIVE