REND COLLECTIVE EXPERIMENT OFFERS FREE APPLICATION
FOR IPHONE®, IPOD TOUCH®, IPAD®, ANDROID DEVICE USERS
NEWS SOURCE: Hoganson Media
June 29, 2011
Charting a unique course, Rend Collective Experiment is a group of friends collectively wondering how to make sense of the conundrum of life, God and community. On its journey, they have released the internationally acclaimed debut album, Organic Family Hymnal, sold out a tour in major markets across the U.S. with Chris Tomlin, and may have been the first artist to use their iPhones® to record worship music (www.youtube.com/watch?v=gaJ4A7mXJH8). Now for the first time, the band offers a FREE "Welcome To The Family!" application for iPhone, iPod Touch®, iPad® and Android device users.
In this app, users can watch Rend Collective Experiment music videos, access band blogs and tour news and even access tutorials to learn how to play the band's songs. They will also have access to sheet music for the Organic Family Hymnal album, as well as the newly recorded song, "You Are My Vision," which became a fan favorite on the recent tour with Chris Tomlin. NewReleaseTuesday.com called Rend Collective's version of the hymn "an amazing performance" as a Lancaster Intelligencer Journal/Lancaster Sunday News writer said the "group's altered, powerfully-done version" of the song was one of many highlights during the band's set.
Created with The Church App by Subsplash, users can download the App, and learn more about it, at these links:
http://itunes.apple.com/gb/app/rend-collective-experiment/id439936410?mt=8
https://market.android.com/details?id=com.subsplash.thechurchapp.rendcollective
Or users with camera phones can gain quick access to the app through these QR Codes: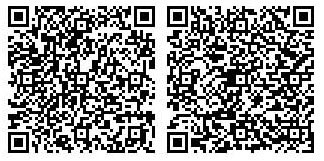 A movement of 20-somethings that began in Ireland and spread across Europe before hitting the Americas, Rend Collective Experiment has been endorsed by Dr. Tony Campolo, Francis Chan and David Crowder, and acclaimed by Worship Leader, CCM, Worship Musician, Rhapsody, Indie Vision Music, Gospel Music Channel, CBA Retailers + Resources, Crosswalk.com, JesusFreakHideout.com, HollywoodJesus and many more.
With melodies, harmonic progression and lyrics that are scriptural and contemporary, fresh and ancient, Rend Collective Experiment is a nod to the places in Scripture where it says to "rend your hearts" and not your garments, a bold call to be genuine. "We're a 'collective' that is not into the celebrity aspect of the worship scene - a bunch of guys and ladies, a body, an experiment in progress," explains Rend Collective Experiment member Gareth Gilkeson.
For more information on Rend Collective Experiment and Organic Family Hymnal, go to www.rendcollectiveexperiment.com.
About Kingsway:
Tracing its music heritage to 1969, Kingsway today is known as a leader in Worship Music. As the creator of Thank You Music, and later in partnership with EMI, its catalogue includes songs such as "Here I Am to Worship," "In Christ Alone," "Everlasting God" and "Blessed Be Your Name" to name a few.
Kingsway's songs are sung in more than 300,000 churches worldwide accounting for over 30% of CCLI's (Church Copyright Licensing International) bestseller list. With writers and artists like Tim Hughes, Matt Redman, Delirious?, Graham Kendrick and Stuart Townend, Kingsway is dedicated to feeding the Church with songs that will change the world. As the music arm of David C Cook, a non-profit organization located in Colorado Springs, CO, a significant portion of the profits that Kingsway and David C Cook generate are used to provide discipleship and music materials free of charge to church leaders in developing parts of the world who wouldn't be able to get them any other way.
###
For more info on Rend Collective Experiment, visit the JFH Artists Database.