GRAMMY-AWARD WINNING RECORDING ARTIST REBECCA ST. JAMES POSES THE QUESTION:
"WHAT IS HE THINKING?"
Forthcoming New Book Reveals Interviews with Single Men & Her Own Insights To Equip Women to Understand What Guys Are Thinking About Dating, Love and Marriage

"A must-read for every girl who is wondering where all the good guys have gone."
~Sean Hannity~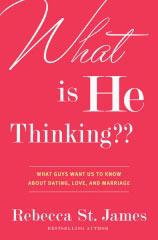 NEWS SOURCE: MorningStar PR
July 12, 2011
(Nashville, Tennessee) July 12, 2011—Grammy Award winning Christian recording artist, best-selling author and actress Rebecca St. James tackles one of the most difficult subjects of her career—understanding the opposite sex—in her new book What Is He Thinking?? What Guys Want Us To Know About Dating, Love, and Marriage (FaithWords/Hachette Book Group; September 2011; Trade Paperback; $14.99).
"I grew up in a home with five younger brothers, so I may have had an early head start on this topic of guys and what they're thinking," writes the newly married St. James.
Drawing on interviews with single men as well as married men, along with her own dating experiences, St. James helps define just what men are looking for and what they wish women knew. Revealing the top ten turnoffs for guys (including a critical spirit, a hot girl who is boring, and the inability to be feminine) the five date questions you have to ask (Do you have any hobbies? Who's your best friend?) and do's and don'ts for interacting with guys, St. James provides readers with the ultimate field guide to Christian men.
Apparently, a field guide to men is still very much needed. According to the New York Times, the number of single women in America has exceeded the number of married women with only 49% of women married and living with a spouse. "I have to wonder if that is why so many single women I know feel the urgency to get married. That can create lots of undue pressure on themselves, as well as the guys in their lives," writes St. James.
Stressing the importance of remaining pure in relationships, St. James offers pro-abstinence advice from men—a view counter to our sex-obsessed culture. Other surprising findings among the men interviewed include a top ten list of what they do to keep their mind off sex (it includes eating, jogging, and walking the dog!) and why most men agree that "modest is hottest."
"In the heart of all of us, I believe that there's a longing for adventure. It's not just guys that love to live a new story and go on a journey. That's what dating can be, girls . . . an exciting adventure," shares St. James. "Yes, it is scary at times and tough to navigate—but it is worth it! And God is shaping us in the process."
St. James has herself embarked on several noteworthy new adventures! In April her highly anticipated new studio project of praise & worship music (produced by Mark A. Miller) I Will Praise You--marked the launch of her new artistic association with the Provident Label Group. Rebecca announced her engagement to Jacob Fink in December 2010 and they were married in San Diego on April 23, 2011. Of finding her long awaited love she wrote: "We are truly amazed at finding our dreams and ideals met in the love we've found. We are exceedingly grateful for this precious gift from God. It's a love that in every sense of the word has been worth the wait."
Now available online for pre-orders, What Is He Thinking? will officially hit retail shelves nationally in September.
Book Details:
What Is He Thinking?? What Guys Want Us To Know About Dating, Love and Marriage
Rebecca St. James
Pub Date: September 2011
ISBN: 978-0-446-57267-5 Format: Trade Paperback, 5 ½ x 8 ½ , 192 pp
$14.99
For more info on Rebecca St. James, visit the JFH Artists Database.