GRAMMY WINNER JOHN SCHLITT PLANS INNOVATIVE FAN-FUNDED CD
Deadline Nears for New Project To Be Supported Through Kickstarter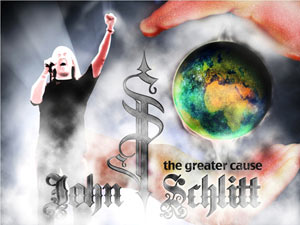 NEWS SOURCE: McCain & Co. PR
July 22, 2011
Franklin, Tenn. (July 22, 2011) - Legendary recording artist and Gospel Music Hall of Famer John Schlitt, best known as the lead singer for award-winning Christian band Petra during the time period when the band won four Grammy Awards and 10 Dove Awards, is planning a fourth solo album, titled The Greater Cause. On the new project, the singer has partnered with fans in an innovative approach to fund the new rock project through Kickstarter, a popular "crowd-funding" platform for creative projects.
"I have been truly blessed by the love and support I have been shown throughout the years," says Schlitt. "So many people have asked me 'When are you going to get that next CD out? We want another rocker from you!' Through Kickstarter, we can partner as a team and make it happen together."
Using a system of pledges and rewards, supporters worldwide have already pledged more than $28,000 during the past two months. The current financial pledges represent more than 80 percent of the project's goal. The deadline to make pledges for The Greater Cause through Kickstarter is noon ET on August 8.
Kickstarter uses a nontraditional approach, with funding provided by the people who have been impacted by the artist. Pledges are taken on Schlitt's personal Kickstarter site (kickstarter.com or thegreatercause) and powered by Amazon, enabling backers' credit cards to be charged only after the goal is met. If the goal is not met by the Kickstarter deadline, no money is collected from supporters and the project is not funded.
Hundreds of individuals have raised capital through the Kickstarter business model, including Christian musician Shaun Groves, who, earlier in 2011, raised the funds for the CD he is currently recording. The film adaptation of Donald Miller's Blue Like Jazz, slated for a Fall release, received $345,992 (276 percent of its original goal) from more than 4,495 donors through Kickstarter to make it the largest crowd-funded film in history, according to Paste Magazine and Kickstarter's website.
Throughout the Kickstarter process to meet the funding goal of $35,000, Schlitt has captured the attention of his fans through a series of updates and early rewards, including a free demo download of one of the first Christian songs that he ever recorded, as well as personal thank-you messages to each donor via Twitter and other social networking sites.
"The Greater Cause will be a 'back to the roots' rock album, which is what my fans have been asking for," Schlitt says. "It is intended to be a fresh and powerful tool to accomplish what God has been doing through me for many years: connecting and encouraging people through my music. We need to use common sense in this world and awaken to the fact that Jesus is Lord, no matter what those around us may say — or do. This is my goal with The Greater Cause."
For more information about Kickstarter or The Greater Cause, go to kickstarter.com or thegreatercause.
About John Schlitt:
During more than three decades in the music business, Schlitt has earned multiple Gold Records, Grammys and Dove Awards. As a solo artist, member of Petra and former lead singer for popular '70s mainstream rock band Head East, Schlitt has toured all over the world. He was inducted into the Gospel Music Hall of Fame as the lead singer of Petra, one of the most successful Christian rock bands of all time. Schlitt was recently named the best rock singer in Christian music history by GospelMusicChannel.com. According to the website, Schlitt "remains one of the most distinctive and impactful men to ever stand behind a microphone." Schlitt was also named "Best Male Vocalist" in About.com's 2011 Reader's Choice Awards.
Schlitt's most recent album, The Grafting, is available on 4K Records and is distributed by New Day Christian Distributors in the U.S. and internationally by Go Global Entertainment. For more information on Schlitt and The Grafting, visit www.johnwschlitt.com.
###
For more info on John Schlitt, visit the JFH Artists Database.