UNIVERSAL ORLANDO RESORT'S ROCK THE UNIVERSE RETURNS THIS SEPTEMBER WITH SOME OF THE MOST POPULAR NAMES IN CHRISTIAN ROCK
Tickets Are On Sale Now for the Biggest Christian Music Event in Florida,
Featuring Concerts by Switchfoot, Casting Crowns, Relient K and More

Guests Can Also Enjoy an All-New Fan Zone, Complete with Autograph Sessions,
Band Merchandise and Live Performances by Emerging Christian Artists
NEWS SOURCE: Universal Studios
August 23, 2011
ORLANDO, Fla. (August, 2011) - On September 9 and 10, Rock the Universe 2011 - Florida's biggest Christian music festival - will take place at Universal Orlando Resort. Guests will enjoy a faith-filled weekend featuring performances by 17 hit artists, an all-new fan zone, inspiring guest speakers, nightly candlelighting ceremonies, access to some of the world's best theme park experiences and more.
This year's sensational lineup features some of the biggest names in Christian rock, laying claim to a combined total of 71 Dove awards and 39 No. 1 singles. More than a dozen hit bands will take the stage, including Switchfoot - who was named "Best Christian Band" by the 2009 Top in Rock awards; Grammy award-winning group and Daytona Beach natives Casting Crowns; rock group Relient K who have sold more than two million albums; and Third Day who have topped the Christian music charts with 14 No. 1 singles. The full lineup is below.

Click here to see a special video message from Relient K, one of this year's headline acts.
In honor of the 10th anniversary of the Sept. 11 attacks, this year's event features guest speakers who survived the attacks that day. Retired Navy Captain Tom Joyce, who survived the attack on the Pentagon, and Sujo John, who worked on the 81st Floor of the North Tower in New York City, will share their inspirational stories about how their faith helped guide them through that tragic time. Rock the Universe guests will also get to experience an all-new fan zone, featuring autograph sessions with performing acts, band merchandise, and a first-ever New Artists' Stage where they can enjoy live performances by three emerging artists: former American Idol contestant Jason Castro, for King & Country and Dara Maclean.
Plus, guests can enjoy the thrilling attractions found only at Universal Studios. They can rock out to hit songs at 65 mph on Hollywood Rip Ride Rockit, laugh along with America's favorite animated family on The Simpsons Ride and speed through darkness on the world's first psychological thrill ride - Revenge of the Mummy.
There are a variety of ticket options for Rock the Universe 2011. The best value is the "Rock Your Weekend" ticket, which includes admission to both nights of the event and three days' admission to both Universal Studios and Islands of Adventure. This ticket is only available until Sept. 2 and will not be sold at the front gate.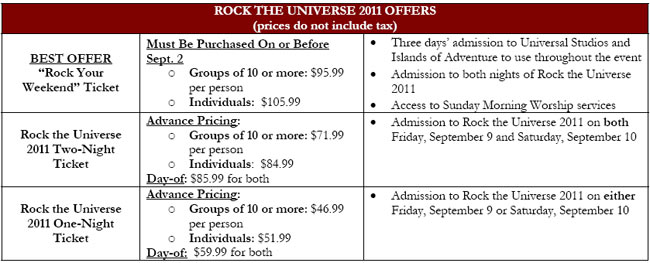 Admission to Rock the Universe 2011 on either Friday, September 9 or Saturday, September 10
For more complete details about Rock the Universe 2011 and to purchase tickets, visit www.RocktheUniverse.com or call 1-866-RTU-INFO (1-866-788-4636).
Universal Orlando Resort
There are many ways to enjoy your Orlando vacation - but there is only one Universal Orlando Resort. It is a completely separate destination featuring two theme parks, three magnificently themed on-site hotels and a nighttime entertainment complex. It's the only Orlando destination where you are not just entertained - you are part of the most exhilarating entertainment ever created. You can soar above Hogwarts with Harry Potter, swing above the streets with Spider-Man, battle aliens alongside Agent J, and help Shrek save Princess Fiona in Shrek 4-D. You can be courageous, be outrageous - and be extraordinary.