NEW VINEYARD UK ALBUM, MY SOUL YEARNS, RELEASES TODAY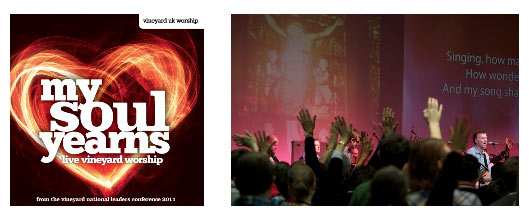 NEWS SOURCE: Hoganson Media
September 13, 2011
Recorded live at the 2011 Vineyard National Leaders Conference along with 1000 attendees comprising of leaders from the UK, Ireland and European Vineyard churches, My Soul Yearns releases today (Sept. 13) from Kingsway with EMI CMG Distribution in the US. The acclaimed album offers new and recently released worship songs that capture the heart and passion of Vineyard worship.
With the opening title track that speaks of the desire to draw closer to God, to the triumphal anthem of God's all conquering love for His people ("The Lamb Has Conquered"), to the declaration of the King's reign on this earth ("Jesus You Reign"), My Soul Yearns is an authentic expression of the Vineyard UK movement. As indusry insiders draw comparisons between this new album and Vineyard Music's all time best-selling album, Hungry, Cross Rhythms confirms that the album will be "invaluable for musicians and worship leaders," while Louder Than The Music calls the album "Amazing."
The twelve-song album was produced by Trevor Michael (Delirious?, The Crave, Phatfish) and Nigel Briggs (Trent), and mastered at Abbey Road Studios by Geoff Pesche (Gorillaz, Athlete, Coldplay). Featuring both new and established songwriters, My Soul Yearns also features worship leaders Samuel Lane (The Burn Band, Beautiful, All From You), Dave Miller, Joe Blustin and Carley Billingham (nee Orpen).
Worship leaders around the world and anyone interested in learning to play the new songs on My Soul Yearns can receive free video tutorials at www.songteach.com and free chord charts and lead sheets at http://www.vineyardrecords.co.uk/mysoulyearns/chords.html. A video preview of the album can be found at http://vimeo.com/23796661.
The full track listing for My Soul Yearns follows:
1. My Soul Yearns
2. Hear The Sound
3. Love Rain Down
4. Jesus Name
5. The Lamb Has Conquered
6. Lift Up His Name Pt1
7. Adore Him
8. Sweetly Broken
9. Lift Up His Name Pt 2 (I Worship You)
10. I Respond
11. Jesus You Reign
12. You Are
More information on My Soul Yearns can be found at www.vineyardrecords.co.uk, where you can also stream full songs from the new album, and at http://www.facebook.com/mysoulyearns.
About Kingsway:
Tracing its music heritage to 1969, Kingsway today is known as a leader in Worship Music. As the creator of Thank You Music, and later in partnership with EMI, its catalogue includes songs such as "Here I Am to Worship," "In Christ Alone," "Everlasting God" and "Blessed Be Your Name" to name a few.
Kingsway's songs are sung in more than 300,000 churches worldwide accounting for over 30% of CCLI's (Church Copyright Licensing International) bestseller list. With writers and artists like Tim Hughes, Matt Redman, Delirious?, Graham Kendrick and Stuart Townend, Kingsway is dedicated to feeding the Church with songs that will change the world. As part of David C Cook, a non-profit organization located in Colorado Springs, CO, a significant portion of the profits that Kingsway and David C Cook generate are used to provide discipleship and music materials free of charge to church leaders in developing parts of the world who wouldn't be able to get them any other way. (www.kingswayworship.com)
# # #