SALEM RADIO PRESENTS REBECCA ST. JAMES'
FALL 2011
"PURITY & WORSHIP TOUR"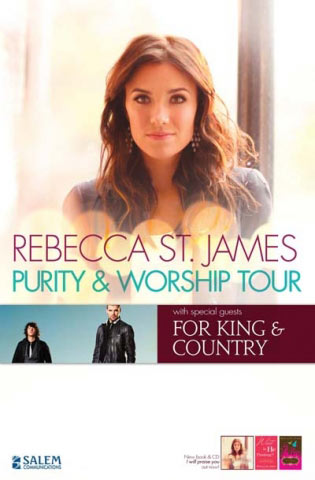 NEWS SOURCE: MorningStar PR
September 13, 2011
(NASHVILLE, TENNESSEE) –September 13, 2011 –Salem Radio will present Grammy® Award winning Christian artist Rebecca St. James as the headlining force on the "Purity & Worship Tour" being presented nationally this fall in major Salem Radio broadcast markets across the U.S.
The concert dates will begin September 16 and 17 in Colorado Springs and Denver markets and continue through December. Salem Radio affiliates in Washington, DC, Orlando, Tampa, Atlanta, Detroit, Minneapolis, Omaha, San Antonio, and Houston are already committed with additional host cities being added.
The "Purity & Worship Tour" is being presented as an unplugged, acoustic evening of music and ministry geared to offer family themed entertainment, content, and messaging from one of Christian music's most articulate contemporary voices.
The "purity" theme of the evening is designed to attract young people and their parents—mothers and daughters in particular, on a key issue of St. James' messaging. Since the release of her signature song Wait For Me in 2000, the Australian born singer has been a major voice for the purity and abstinence agenda who has consistently carried the message throughout her ministry in music, books, and film worldwide.
Salem Communications is a leading U.S. radio broadcaster, Internet content provider, and magazine and book publisher targeting audiences interested in Christian and family-themed content and conservative values. Salem owns and/or operates approximately 95 radio stations –58 of which are in 23 of the top 25 radio markets nationally. Salem Radio Network® syndicates talk, news, and music programming to approximately 2,000 affiliates nationally.
About the tour presentation of Rebecca St. James, David Santrella, President of Salem's Radio Division, notes:
"The message of purity and abstinence in today's culture that is saturated by sexual imagery is perhaps one of the most important messages young women can hear. Rebecca St. James has been uniquely gifted with the ability to deliver through her music and her ministry, a message of sexual purity in a way that easily connects with parents and their daughters, helping to open the door to discussions which may not otherwise occur. Salem Communications is proud to be partnering with Rebecca to present The Purity & Worship Tour which will deliver that message in an entertaining and relatable way to our Salem markets nationwide."
A key element of the "Purity & Worship Tour" will also be the presentation of her established music as well as new worship material from St. James' latest album release I Will Praise You which debuted this spring as her first studio project under a new creative association with the Provident Label Group.
Now recognized also as a best-selling Christian author whose latest book on dating What Is He Thinking? (Hachette-Faithwords)will release nationally on September 26, St. James will also share a special screening segment of her pro life message film, "Sarah's Choice" at the Salem events.
Joining Rebecca on the tour dates will be exciting new Contemporary Christian duo, For King & Country, whose debut single for Fervent Records "Busted Heart (Hold On To Me)" is now reaching national audiences via Christian radio.
Resource Rebecca St. James online: www.rsjames.com