David Crowder*Band's "The 7 Tour" Is An Overwhelming Success,
Over 75% of the Shows Sold Out Before Tour Wraps
First Single from Final Record
Give Us Rest of (a requiem mass in c [the happiest of all keys]),
"Let Me Feel You Shine," Available Today on iTunes ®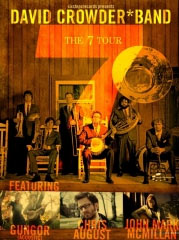 NEWS SOURCE: The M Collective
October 24, 2011
Nashville, Tenn. Oct. 24, 2011… The final tour for GRAMMY ® nominated talent David Crowder*Band has garnered a tremendous response from fans with 26 of the 33 shows selling out, including major markets such as Dallas, New York City, Portland, Seattle, Atlanta and Philadelphia. Gungor, Chris August and John Mark McMillan joined David Crowder*Band in clubs and theaters across the nation this fall. The routing of shows will wrap on November 13 with a sold out crowd in Jackson, Miss.
Additionally, the band's first radio and digital single from their final record Give Us Rest of (a requiem mass in c [the happiest of all keys]) is available on iTunes ® today, Oct. 24. David Crowder*Band will release their sixth studio album on January 10. Their first ever Christmas record, Oh For Joy, is also debuting this holiday season with a unique, nutcracker themed cover.
David Crowder*Band and the 7 Tour has been excited to take ONE on the road, and support the important work of Project 7 as they work to change the score by raising funds to build water wells in Sub Saharan Africa. ONE, the anti-poverty advocacy group co-founded by U2's Bono, has been on the road with the David Crowder*Band to recruit fans to use their voices in the fight against extreme poverty and preventable disease. Volunteers are signing up ONE members and educating concert-goers about America's vital work that has saved more than 15 million kids lives and put more than 46 million kids in school over the last decade. Project 7 makes everyday products for good and is dedicated to creating positive change through their purchase—giving back to assist real needs throughout the world. By purchasing Project gum, mints, water and coffee, people are making a conscious decision to do good, give back and support organizations positively impacting one of seven areas of need – HEAL the Sick, SAVE the Earth, HOUSE the Homeless, FEED the Hungry, TEACH them Well, HOPE for Peace, and QUENCH the Thirsty.
"We're excited to team up with the David Crowder*Band and 'The 7 Tour' to help raise funds for our '7 Wells Project.' It's wonderful to see the band use its tour as a platform to help others by partnering with us to provide clean drinking water for those in need through the building of water wells," said Tyler Merrick, founder and CEO of Project 7. "Our goal through this partnership is to spread awareness of the fact that more than one billion people worldwide lack a basic supply of clean water, and to make it easy for concert goers to donate to this important cause by rewarding them with a canister of our Quench the Thirsty™ 7 Blend Coffee."
# # #
About David Crowder*Band:
Named among the "most thoughtful, progressive and exciting acts in contemporary Christian music" by The New York Times, the popular yet unconventional David Crowder*Band released their last GRAMMY ® nominated album Church Music in the fall which debuted at No. 1 on the Christian retail chart scanning over 35,000 units. This gave David Crowder*Band their largest street week to date ranking in at No. 11 on the Billboard Top 200. David Crowder*Band's latest music video for "SMS (Shine)" nabbed coverage on NBC's The Today Show, Fox & Friends, USA Today, Billboard and Paste Magazine online as well as a GMA Dove Award win for "Short Form Video of the Year." The video was also recognized at the LA Film Festival in 2011. Along with the group's 9 GMA Dove Awards and 22 nominations, the band was the first Christian artist to b=e named MSN.com's Artist of the Year in 2006. The band is also part of the Passion Movement, participating in university student gatherings in the US and around the world. The group's leader David Crowder is further an acclaimed author, having penned two books, including his acclaimed, highly personal, Everybody Wants to Go to Heaven, But Nobody Wants to Die: Or (The Eschatology of Bluegrass). David Crowder*Band debuted their first Christmas album, Oh For Joy, in October of this year.
About ONE:
ONE is an advocacy organization dedicated to the fight against extreme poverty and preventable disease around the world, particularly in Africa. Backed by more than 2.5 million members, we work with government leaders in both parties to support proven, cost-effective solutions to save lives and build sustainable futures.
About Project 7®:
Founded in 2008 by Tyler Merrick, Project 7® makes everyday products for good and is committed to 'changing the score' by making a significant, measurable difference in the lives of people all over the world through the purchase of its everyday products including sugar-free gum and mints, organic fair trade coffee, bio-bottled water, eco-T-shirts and branded apparel. For every purchase of a Project 7 product, the company makes charitable contributions to organizations dedicated to serving seven areas of need in the world – Feed the Hungry™, Heal the Sick™, Hope for Peace™, House the Homeless™, Quench the Thirsty™, Teach them Well™ and Save the Earth™.
Project 7 encourages consumers to help make a tangible difference by purchasing Project 7 products, volunteering their time and educating others. To learn more about Project 7 or to purchase Project 7 merchandise, visit www.project7.com. You can also become a fan of Project 7 on Facebook and follow @Project7 on Twitter.
For more info on David Crowder*Band visit the JFH Artists Database.