WORD ENTERTAINMENT COMMEMORATES 60th ANNIVERSARY WITH CELEBRATION EVENT IN WACO, TEXAS
The Anniversary Reception included Waco Mayor Jim Bush, Mike Curb (Chairman of Word Entertainment), John Esposito (Warner Music Nashville's President & CEO), Rod Riley (Word Entertainment's President & CEO), Baylor University President Ken Starr and members of Word founder Jarrell McCracken's family

Waco Mayor Jim Bush Presented a Proclamation Naming November 2 as "Word Day" in Waco

Dove Award Winning Artists Chris August and Sidewalk Prophets Closed Out the
Celebration with an Outdoor Concert on the Baylor Campus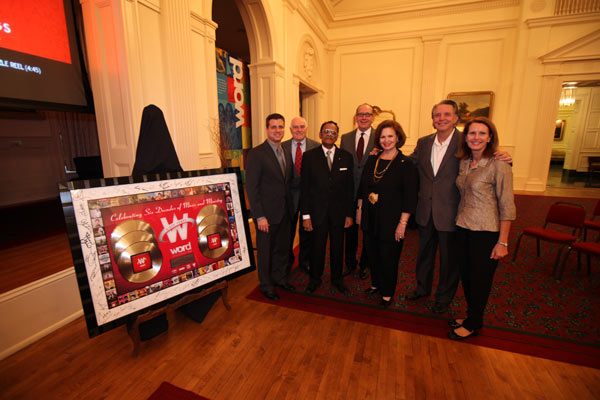 NEWS SOURCE: Warner Music Nashville
November 8, 2011
NASHVILLE, TN – (November 8, 2011) – Word Entertainment, Warner Music Groups' Christian music division, has been celebrating the storied label's 60th anniversary of making Christian music this year. This past Wednesday, November 2, Word Entertainment staff and executives threw a special anniversary celebration in Waco, Texas, home of the label's origin, which was founded by Baylor University graduate, Jarrell McCraken, in 1951. On hand for the celebration included members of the McCracken's family as well as Waco Mayor, Jim Bush, Chairman of Word Entertainment, Mike Curb, Warner Music Nashville's President & CEO, John Esposito, Word's first A&R Director and artist, Kurt Kaiser, Word Entertainment's President & CEO, Rod Riley and Baylor University President, Ken Starr. The event was attending by many Word employees both past and present with a special commemorative plaque presentation to the McCracken Family and Baylor University on behalf of Word Entertainment. Waco Mayor Jim Bush also presented a proclamation, naming November 2 as "Word Day" in Waco, Texas. The night concluded with an outdoor concert featuring Word Entertainment's Dove Award Winning Artists Chris August and Sidewalk Prophets on the Baylor campus. To view the historical video of Word Entertainment, visit here.
In honor of the label's anniversary, Word Entertainment recently released a 3-CD compilation featuring a 51-song collection with a bonus excerpt from the company's original recording, entitled, Word: Six Decades Of Hits. The must-have anthology spans 60 years of great music that has come out of this landmark label featuring legendary artists such as Amy Grant, Sandi Patty, Point of Grace, Jaci Velasquez and new breakthrough artists such as Francesca Battistelli, Chris August and Sidewalk Prophets.
PHOTO CAPTION (from L to R): Rod Riley (Word Entertainment President & CEO), Kurt Kaiser (Word's first A&R director and artist), Oscar Reese (One of the first Word employees), John Esposito (Warner Music Nashville President & CEO), Judith McCracken (wife of Word founder, Jarrell McCracken), Mike Curb (Chairman of Word Entertainment) and Lisa McCracken Lacy (daughter of Word founder, Jarrell McCracken)
PHOTO CREDIT: Baylor Marketing & Communications / Robert Rogers
For further information on Word Entertainment and the 60th Anniversary celebrations, please visit www.WordLabelGroup.com
About Word Entertainment
A leader in the music industry, Word Entertainment, a Warner/Curb company, is a unique, comprehensive entertainment company comprised of multi-faceted artist service departments including publishing, merchandising, booking, and online initiatives. Word Entertainment represents some of the top names and brands in music, including Meredith Andrews, Chris August, BarlowGirl, Francesca Battistelli, Big Daddy Weave, Patrick Ryan Clark, Group 1 Crew, for King and Country, Dara Maclean, Point Of Grace and Sidewalk Prophets and is home to 25 LIVE, Word Distribution (representing Curb Records and Big Idea/VeggieTales among others), Word Print, Word Music Publishing and Word Label Group's Word Records and Fervent Records.
# # #