REND COLLECTIVE EXPERIMENT RELEASE SOPHOMORE ALBUM,
HOMEMADE WORSHIP BY HANDMADE PEOPLE, JAN. 10
Band Moves To Atlanta, Embarks on 30-City Rock & Worship Roadshow Jan. 26,
Multiple US Dates With Francis Chan

"Second Chances" Goes To Radio In February, Video Premieres December 26
NEWS SOURCE: Hoganson Media
November 22, 2011
Internationally acclaimed Rend Collective Experiment releases its sophomore album, Homemade Worship By Handmade People, Jan. 10 on Kingsway with global distribution. The album was recorded and produced by Rend Collective in Irish church halls and homes in the band's organic, collective style. The new album fuses a depth of sung theology and fresh melodies that reflect themes of redemption, devotion and celebration with soundscapes that span from Arcade Fire and Mumford & Sons to Fleet Foxes and Snow Patrol.
"Things that are homemade demand so much more time and love than something made from a factory, yet they are always worth it; the quality and uniqueness are what is beautiful," explains Rend Collective Experiment bandleader, Gareth Gilkenson. "We refused to make an album in a studio separate from our normal lives. Humanity and the Divine are what we are celebrating here…We hope you like what we have made!"
The buzz that greeted Rend Collective Experiment's debut release, Organic Family Hymnal, included a viral "iPhone worship" video, UK tours with Francis Chan and Shane Claibourne, and a major market, sold out US tour with Chris Tomlin and Louie Giglio. With the release of Homemade Worship By Handmade People, the journey for Northern Ireland's Rend Collective members continues from their new homes, having recently moved "across the pond" to Atlanta.
Using Atlanta as a launch pad, Rend Collective will join Francis Chan for four US tour dates and will be featured on the 30-city Rock & Worship Roadshow tour that begins Jan. 26 and also features MercyMe, Tenth Avenue North, Lecrae, Disciple, Hawk Nelson and Sidewalk Prophets. Singing the fan favorites and new songs from Homemade Worship By Handmade People on both sides of the Atlantic, Rend Collective's tour also includes events in Edinburgh (Jan. 5), Belfast (Jan. 6) and London (Jan. 7), with tour dates throughout Europe in 2012 to be announced soon.
For Rend Collective, the music has never been about adding to their coffers or building fame, it has always been about people and building God's Kingdom here. That direction continues on the album with songs like "Build Your Kingdom Here" and "Second Chances," the first radio single, going for adds Feb. 17, and music video from the album that premiers on YouTube Dec. 26 (http://www.youtube.com/user/RendCollective).
A live preview of the band's studio recording of the famous hymn, "Be Thou My Vision," featured on Homemade Worship By Handmade People, can already be seen on the band's YouTube channel. Rend Collective translate the song into a form and melody for contemporary worshippers that a Lancaster Intelligencer Journal writer calls "powerfully-done" and NewReleaseTuesday.com calls "an amazing performance."
The new album will also engage Rend Collective fans in a continued dialog as part of the collective family. In fact, the CD jacket for Homemade Worship By Handmade People contains an "I'm part of the collective" poster fold where fans are encouraged to upload an image onto the band's website, www.rendcollectiveexperiment.com. The band is also asking for videos where people join in the collective conversation. Launching this page next month with videos from Francis Chan and Tim Hughes, Gilkenson explains, "It was never about us, it was always about Him."
The full Homemade Worship By Handmade People track listing follows:
01. Praise Like Fireworks
02. You Are My Vision
03. The Cost
04. Second Chance
05. True Intimacy
06. Build Your Kingdom Here
07. Desert Soul
08. Christ Has Set Me Free
09. Keep Me Near
10. Alabaster
11. Shining Star
Rend Collective Experiment is a group of friends collectively wondering how to make sense of the conundrum of life, God and community. This movement of 20-somethings that began in Ireland and spread across Europe before hitting the Americas, Rend Collective Experiment has been endorsed by Louie Giglio, Chris Tomlin, Francis Chan and David Crowder, and acclaimed by Worship Leader, CCM, Rhapsody, Worship Musician, Indie Vision Music, Gospel Music Channel, NewReleaseTuesday.com, CBA Retailers + Resources, Crosswalk.com, JesusFreakHideout.com, HollywoodJesus and many more.
With melodies, harmonic progression and lyrics that are scriptural and contemporary, fresh and ancient, Rend Collective Experiment is a nod to the places in Scripture where it says to "rend your hearts" and not your garments, a bold call to be genuine. "We're a 'collective' that is not into the celebrity aspect of the music scene - a bunch of guys and ladies, a body, an experiment in progress," says Gilkenson.
For more information on Rend Collective Experiment, it's touring and music, go to www.rendcollectiveexperiment.com.
About Kingsway:
Tracing its music heritage to 1969, Kingsway today is known as a leader in Worship Music. As the creator of Thank You Music, and later in partnership with EMI, its catalogue includes songs such as "Here I Am to Worship," "In Christ Alone," "Everlasting God" and "Blessed Be Your Name" to name a few.
Kingsway's songs are sung in more than 300,000 churches worldwide accounting for over 30% of CCLI's (Church Copyright Licensing International) bestseller list. With writers and artists like Tim Hughes, Matt Redman, Delirious?, Graham Kendrick and Stuart Townend, Kingsway is dedicated to feeding the Church with songs that will change the world. As part of David C Cook, a non-profit organization located in Colorado Springs, CO, a significant portion of the profits that Kingsway and David C Cook generate are used to provide discipleship and music materials free of charge to church leaders in developing parts of the world who wouldn't be able to get them any other way. (www.kingswayworship.com)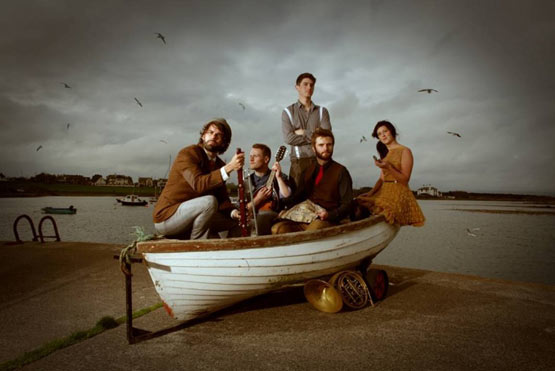 ###
For more info on Rend Collective Experiment visit the JFH Artists Database.