REBECCA ST. JAMES GUESTS THIS WEEK WITH
DR. JAMES DOBSON ON "FAMILY TALK" RADIO -
JANUARY 5-6
Latest Book "What Is He Thinking??" Strikes A Controversial Cultural Chord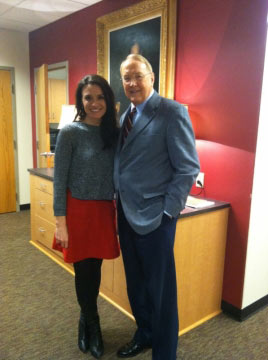 PHOTO: Rebecca St. James Joins Dr. James Dobson In Studio
NEWS SOURCE: Morning Star PR
January 4, 2012
(Nashville, Tennessee) -January 4, 2012 -Grammy Award winning Christian singer and best-selling author Rebecca St. James has proven to be anything but media shy in her support of Christian values in today's culture.
She'll be in the major media spotlight again this week with a two day on-air guesting with Dr. James Dobson on his popular radio program, "Family Talk."
Discussion will center around Rebecca's latest book "What Is He Thinking??" -the book which created a recent firestorm on Fox New Channel's "Hannity." Researched and written by St. James as a cultural handbook for young people on the changing face of dating, marriage, and sex in relation to America's seeming ebb tide of moral values, the book has promoted spirited dialogue from national mainstream media.
Her December appearance on Hannity's "Great American Panel" turned-out a post telecast overwhelmingly supportive cyber-world response in her defense in response to an exchange with fellow guest panelist Jay Thomas, who challenged Rebecca's stand on moral issues as well as her support of under-fire fellow Christian, Tim Tebow.
To view Rebecca's appearance on "Hannity" click: http://youtu.be/Su4vma0Rp-U
On this week's "Family Talk" radio broadcast, Rebecca will be on her home turf-sharing Christian values with Dr. Dobson who has long championed and led the charge for a return to family and moral values in today's culture.
Rebecca's two day guesting with Dr. Dobson will air nationally on both Thursday, January 5 and Friday, January 6.
To listen online, resource: http://drjamesdobson.org/home
To check local radio stations that carry "Family Talk" in your area: http://drjamesdobson.org/Broadcasts/Stations
Rebecca's latest book "What Is He Thinking??" is available from Faithwords/Hachette publishers at national retail and major online book resources.
Resource Rebecca St. James at: www.rsjames.com
# # #
For more info on Rebecca St. James visit the JFH Artists Database.