The Music Boat 2012 Already More Than 50% Full as Premier Christian Cruises Announces Destinations and Artist Line-Up
Pre-Sale Starts January 15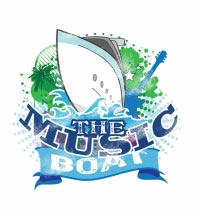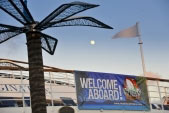 NEWS SOURCE: Spinhouse PR
January 12, 2012
HIGH POINT, N.C. - January 12, 2012 - The 7th sailing of the Music Boat Cruise departs in 2012 to a new destination with new artists and new opportunities for entertainment and relaxation.
Presented by World Hope and produced by Premier Christian Cruises, The Music Boat 2012, on the Carnival Imagination, sails Nov. 5-9 from Miami, Fla. for four nights and five days to the Caribbean island of Grand Turks in Turks and Caicos. Throughout the cruise, passengers will experience non-stop music from a 16+ artist lineup that includes Dove Award-winning and GRAMMY-nominated artists Newsboys, Natalie Grant, Kutless, Sanctus Real, Brandon Heath, Mandisa, Peter Furler, Building 429, Laura Story, Classic Petra, The Annie Moses Band, RED, Bernard Harris, Planetshakers, Group1Crew, Jamie Grace, Royal Tailor, Phil and Heather Joel and more.
Reservations for the Music Boat are now being accepted. Because the cruise is already more than 50 percent full, now is the time to book. Premier Christian Cruises is currently offering a special pre-sale January 15-31 where cruise-goers will save $200 per stateroom with promo code "jan." More information is available at www.themusicboat.com.
"We are beyond excited to be part of this cruise," said Michael Tait, lead singer of Newsboys. "Not only do we get to travel to amazing destinations like Grand Turk Island on a cruise ship, but we have the ability to travel along with some of our favorite musical artists. Most of all, we go prayerfully anticipating many lives transformed spiritually by the experience of these four nights."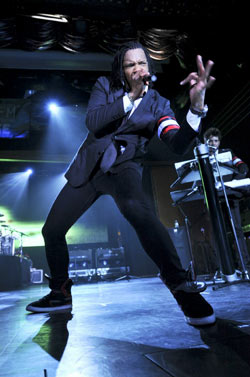 The new Music Boat destination takes passengers to the amazing port of Grand Turk Island in the Caribbean, one of the world's premier beach destinations and historic landmarks. Grand Turk is the capital island of the Turks and Caicos. It is here that Christopher Columbus first made landfall on his initial voyage to the New World in 1492. One of Grand Turk's main attractions is the protected coral reef that drops to 8,000 feet and is close enough to shore for beach dives. The most popular excursion is Gibbs Cay where visitors can enjoy an uninhabited island and a chance to feed the beautiful stingrays that swim right up to shore.
Music, of course, is the heart of The Music Boat. More than 16 artists will perform on the ship in musical styles ranging from pop to rock and urban to worship. The cruise will feature pool-side concerts, evening shows, artist autograph sessions and a huge farewell concert. Additionally, Left Behind series author Jerry Jenkins, Biggest Losers Phil and Amy Parham from The Biggest Loser and author and actor Alex Kendrick from "Courageous" are among the inspirational speakers for the cruise. VeggieTales' Bob and Larry and illusionist Jim Munroe round out the cruise's entertainment offerings.
New on the Music Boat this year is the Indie Stage. Each night, aspiring artists will have the opportunity to perform on the ship and to be seen, not only by fellow passengers, but also by top Christian music industry representatives.
Traveling on the Carnival Imagination Ship is an all-inclusive entertainment experience. With two days at sea, there is no shortage of ways to both relax and play on the Imagination. The ship features a 9-hole mini golf course, the Carnival Water Works water park, a tropical resort-style pool and Serenity Adult-only Retreat, delicious dining options, 24-hour room service, relaxing spa treatments, exercise facilities and exclusive age-specific and supervised clubs for kids ages 2 to 11.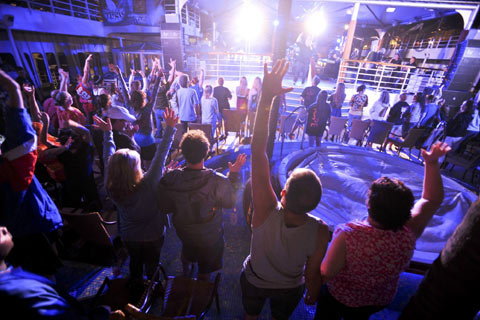 While the amenities aboard the Music Boat are first class, what distinguishes Premier Christian Cruises from other entertainment cruises are the opportunities to incorporate faith activities into the experience. In addition to non-stop Christian music, the Music Boat offers Morning Devotions, Daily Cruise Devotionals, Inspirational speakers, Singles receptions and Teen events, ensuring that each passenger is both physically and spiritually refreshed by their four-night, five-day vacation.
"Nothing refreshes the spirit like being surrounded by believers on a beautiful boat, traveling to an incredible destination and enjoying inspiring music," said Premier Christian Cruises owner Roy Morgan. "Come enjoy great fellowship and make wonderful memories. Cruise with us and leave the world behind for a week!"
World Hope (www.weareworldhope.com) is the presenting flagship ministry in the annual Music Boat outreach to impact lives. With a mission to bring the hope and love of Christ to the hopeless, World Hope has a global missions program that includes extensive training and discipleship for the missionary field as well as hands-on outreaches currently established in Kenya, Nicaragua, and the Philippines.
About Premier Christian Cruises:
Premier Christian Cruises brings top Christian artists onboard cruise ships, along with great national and international speakers, a smattering of renowned comedians and a backdrop of exotic locations from Cancun, Mexico to The Bahamas. PCC has found the right recipe for spiritual journeys of a lifetime designed to bring people closer to their Creator. Among the Premier Christian Cruises annual getaways are the K-LOVE Friends & Family Music Cruise, The Music Boat, FamilyLife's Love Like You Mean It Marriage Cruise, The Karen Kingsbury & Friends Cruise and The Girls Get-A-Way Cruise. Over 50,000 passengers have experienced a Premier Christian Cruise over the last several years. For more information, visit www.PremierChristianCruises.com.