WINTER JAM SEES RECORD-SETTING OPENING WEEKEND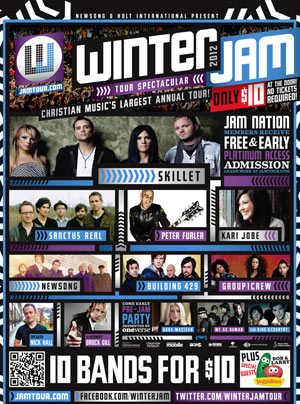 NEWS SOURCE: Turning Point Media
January 12, 2012
NASHVILLE, Tenn.-Kicking-off an unprecedented 17th consecutive year, the Winter Jam 2012 Tour Spectacular debuted to a combined total audience of more than 32,000 people last weekend. The 47-city tour launched in Charleston, West Virginia, and also hit Charlotte and Raleigh, North Carolina, yielding the largest three-day opening attendance in Winter Jam history.
Founded and hosted by Grammy®-nominated Christian music mainstay NewSong, Winter Jam is Christian music's largest annual tour and was Pollstar's #1 tour in attendance for the first quarter of 2011. This year's tour is headlined by Grammy®-nominated alternative rockers Skillet and also features Sanctus Real, former Newsboys frontman Peter Furler, Kari Jobe, Building 429, Group 1 Crew, illusionist Brock Gill, and national speaker Nick Hall. In addition, the OneVerse Pre-Jam Party includes performances from Dara Maclean, For King & Country, and We As Human.
"It was our best launch weekend of any Winter Jam to date," said NewSong's Eddie Carswell. "Attendance has been amazing so far and God's doing a great work on this tour. It continues to be a thrill to do this each year and we appreciate the incredible artists who help make the tour an unforgettable experience of great music and powerful ministry in every city. We're excited to see what's going to happen over the next 44 nights."
"The first week was unbelievable-incredible fans and an incredible ministry," said Skillet's John Cooper. "There's nowhere I'd rather be right now than on Winter Jam."
Promoted by Premier Productions and presented by Holt International, Winter Jam 2012 Tour Spectacular sponsors include BeMyVote.com, the University of Mobile, The Creation Museum, OneVerse, Wayne E. Bailey Produce, Texas TransEastern, Premier Christian Cruises, Xtreme Conferences, and Camp Electric. The tour will stop at Philips Arena in Atlanta; Dallas' American Airlines Center; the FedEx Forum in Memphis, Tennessee; the Sprint Center in Kansas City, Missouri; and the AT&T Center in San Antonio, Texas, among other leading venues, before concluding April 1 at Van Andel Arena in Grand Rapids, Michigan. Admission is $10 at the door, with no ticket required.
Since its formation by NewSong in 1995, Winter Jam has featured many of the top names in Christian music, including TobyMac, Third Day, Newsboys, Steven Curtis Chapman, and Jeremy Camp, among others. The Winter Jam 2011 Tour Spectacular outpaced attendance for all other tours in the first quarter, including Bon Jovi, U2, Lady Gaga and Justin Bieber, according to Pollstar's 2011 Worldwide First Quarter Ticket Sales "Top 100 Tours" chart.
A complete list of Winter Jam 2012 Tour Spectacular dates can be found at www.jamtour.com.
# # #