iamsecond.com Celebrates 'I am Second' Book Launch
with Party Featuring Seconds, Newsboys
Individuals invited to watch webcast of event January 15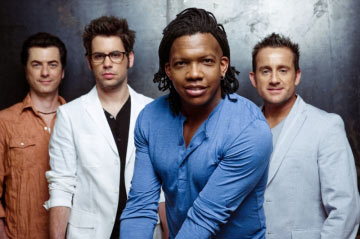 NEWS SOURCE: A. Larry Ross Communications
January 14, 2012
DALLAS, Jan. 14, 2012 - Iamsecond.com, a website featuring video stories of personal struggle, transformation and hope of celebrities and everyday people, commemorated the national launch of the "I am Second" book from Thomas Nelson, Inc., tonight with a party featuring well-known Seconds seen on the website and in the "I am Second" book as well GRAMMY-nominated and Dove Award-wining band Newsboys. The event will be broadcast on iamsecond.com on Sunday, Jan. 15 beginning at 7:30 p.m. CST.
Along with hearing from Seconds such as Dallas Cowboy Bradie James and sports reporter and cancer survivor Tamara Jolee, the party included entertainment from singer/songwriter Todd Agnew and Christian hip-hop artist Sean Little. In addition, Second Jim Munroe of M?ZE astonished the audience with illusions and Newsboys closed out the party with an acoustic set including songs from their newest album, "God's Not Dead," which features the track "I am Second."
"I have a platform playing football but I have just as many people excited about I am Second," said James. "One thing I've learned is God has given me the talent of playing football but He's also given each of us a talent and a testimony. I was scared to share my testimony because I wasn't sure people would relate, but I now know people can be impacted by that."
The "I am Second" book, which released this month, shares further detail on the testimony of 22 individuals seen on iamsecond.com including James and Jolee as well as 2010 American League MVP and Texas Rangers outfielder Josh Hamilton; surfer Bethany Hamilton; "The Biggest Loser" season six winner Michelle Aguilar; Ultimate Fighting Championship star Vitor Belfort; GRAMMY® award-winning artist Michael W. Smith; and St. Louis Rams quarterback Sam Bradford.
"These are not just the typical 'I'm a rock star and got hooked on drugs' stories," said Doug Bender, co-author of "I am Second." "These are personal stories from real people who went through a lot and came to a point where putting Jesus first was all they had. If you know someone struggling with life, there is someone like that in this book."
Alongside each story, which show the redemptive power of Christ to rescue us in the greatest depths of our human need, readers can immediately view their stories with a QR code after each chapter and related testimonies to find the freedom Christ offers.
"It's amazing to see what God can do when people share what He has done in their lives. It's amazing to see how eager people are to get involved," said Bryan Norman, associate publisher, nonfiction trade group at Thomas Nelson. "Thomas Nelson is proud and honored to partner with I Am Second to help spread the message and lift up Christ. We hope the book is another effective tool for ministry."
I am Second is designed to help individuals discover hope. The iamsecond.com website includes authentic film testimonies of "everyday" people and celebrities related to a variety of personal struggles, including abuse, addictions, pride, eating disorders, broken families and the search for success and meaning in life.
Launched in Dallas-Fort Worth in December 2008, iamsecond.com quickly spread virally across the globe. To date, the website has seen more than 6 million visitors from 217 countries/regions who have viewed over 20 million pages and films on the site. The site has since officially launched in Orlando, Fla., Evansville, Ind., and Kansas City, Mo., with several other cities planned for the future.
For additional information about I am Second and the book, visit http://www.iamsecond.com or http://www.ThomasNelson.com.
For more info on Newsboys visit the JFH Artists Database.