MARY MARY'S ERICA CAMPBELL AND HUSBAND, PRODUCER/SONGWRITER WARRYN CAMPBELL JOYFULLY WELCOME THEIR NEW BABY GIRL - ZAYA MONIQUE CAMPBELL
AMDIST THE MY BLOCK/COLUMBIA RECORDING DUO'S WHIRLWIND SCHEDULE, DOUBLE GRAMMY NOMINATIONS, AN NAACP IMAGE AWARD NOMINATION AND A NEW REALITY SERIES ON WE tv, THE COUPLE PAUSES TO GIVE THANKS FOR THE NEWEST ADDITION TO THEIR FAMILY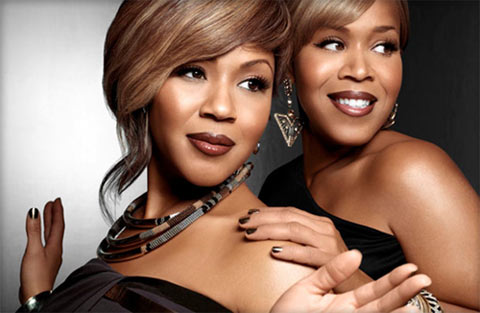 NEWS SOURCE: Plan A Media
January 25, 2012
(New York, NY -January 25th, 2012) - Erica Campbell, half of the multi-Grammy Award-winning sister duo, Mary Mary, has given birth to her new daughter. Campbell and husband, producer/songwriter Warryn Campbell welcomed their third child, Zaya Monique Campbell, on Tuesday, January 24th, 2012. Both mother and daughter are resting comfortably.
The glowing mom was elated upon the arrival of her new baby girl. In a statement Erica said that she and her husband were "feeling so thankful and so blessed to have our sweet Zaya finally make her grand entrance into the world! God is awesome, our family couldn't be more happy than we are today!" Zaya Monique was born at a healthy 6lbs, 12 oz.
The singer will take a few weeks to spend with her newborn before gearing up to promote Mary Mary's new self titled WE tv reality series. The highly anticipated series premiers on Thursday, March 29th at 10pm ET/PT, then continues each week at 9pm ET/PT with ten, hour-long episodes.
Erica Campbell worked throughout the bulk of her pregnancy with sister and duo mate, Tina Campbell, performing on nationally televised award shows such as BET's Black Girls Rock and Centric's Soul Train Music Awards along with performances at Macy's Great Tree Lighting in Atlanta and Chicago's Magnificent Mile of Lights Festival. Mary Mary also made appearances on television shows such as The Wendy Williams Show, and Good Morning America, where Campbell officially announced her pregnancy.
Proving her work ethic and dedication to the group, Campbell was ready to kick off the "Have a Mary Mary Christmas Tour" in December 2011, but at 7 months pregnant, was ordered by her doctor to slow down her pace to ensure a healthy pregnancy. The tour as a result was cancelled. Still Campbell found ways to work safely in her hometown of Los Angeles by filming the duo's television series "Mary Mary".
With all the accolades that Mary Mary's current album Something Big has received including a BET Award, Soul Train Award, Two Stellar Awards, Double Grammy Nominations, and an NAACP Image Nomination, truly the greatest delight of the season has come from the arrival of little Zaya Monique.
###
For more info on Mary Mary visit the JFH Artists Database.