Natalie LaRue To Make Return To Music With Debut Solo EP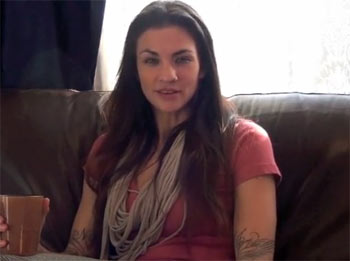 NEWS SOURCE: Natalie LaRue / Jesusfreakhideout.com
February 7, 2012
It's been almost ten years since we last heard from one-half of the brother/sister debut LaRue--Natalie LaRue. Since she and Phillip parted ways, musically speaking, Natalie has married and settled down. Now she's getting ready to make music once again and she needs your help! She's started her own Kickstarter campaign to raise the funds to complete her first six-song solo EP. Check out this link and then read the details from her campaign below!

SO here I am. Ready to make music again! I want to thank you for considering to be a part of my journey - via a pretty awesome phenomenon- called Kickstarter. It's crazy to me that it's been almost 10 years since my LaRue days with my brother Phillip. Time has flown, I have morphed and changed, but I now finally feel willing and able to get back into doing what I truly love, the creative expression of my heart through music.
With an amazing husband and supporter by my side along with three beautiful children I now have something to say and I hope that with your support and generous pledges, I can simply do just that. Record songs. I believe you will resonate with each one of them.
I am so thankful to have Don Chaffer from Waterdeep on the team producing the 6 song EP at his studio in Nashville. The idea is to begin around the first part of March and should hopefully have the finished product in your hands around the end April.
Please spread the word by sharing this project with others. We literally cannot do this without you! We have to reach the full financial goal. It's all or nothing with Kickstarter.
Some initial thanks:
Liz at the Yellow House Salon
Eden Frangipane for her photography
Our family and friends who have walked the journey
Those who have already pledged and helped spread the word
Here is a teaser.....The lyrics to the song Humble Me (briefly heard in the promo video). It's a song I wrote during a dark season of the soul, and in the light of God's prevailing goodness, finding his righteousness is more than enough.
God of the broken, God of the weak
Humble me to Love,
Friend to the outcast, Savior to me
Humble me to love

You who gave life, by conquering death
Humble me to Love
You who knew no sin, yet bore mine instead
Humble me to love,

And I know my will may fail me
My heart will let me down
Yet you are constant and so faithful
To let all grace abound
So as I grow weaker, you remain strong
Humble me to love
I find I am nothing unless you are found
Humble me to love

So God I am broken, God I am weak
Humble me to love,
You have been my Savior, my bringer of Peace
Humble me to love

by Natalie LaRue
http://www.kickstarter.com/projects/natalielarue/natalie-larues-6-song-ep-music-cd
###
For more info on LaRue visit the JFH Artists Database.