Integrity Music Signs Indie Worship Band Fike
New Album, The Moment We've Been Waiting For, To Release In April
Radio Single "Wait" Available as Free Download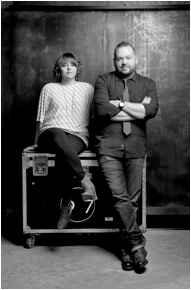 NEWS SOURCE: Integrity Music
February 22, 2012
Colorado Springs, Colo. (February 22, 2012) - - Integrity Music recently signed Colorado-based worship band Fike with their major label debut, The Moment We've Been Waiting For, slated to release April 10, 2012.
Fronted by husband and wife Richie and Dana Fike, the band was previously featured in Worship Leader magazine for their independently-released album Make A Sound. The magazine also featured four of Fike's songs ("Ascend to Heaven," "Who Is Like the Father," "My Savior Lord," "Glorious You Are") in its Song DISCovery series, which introduces new worship songs to the Church. Richie and Dana Fike have been writing for Integrity Music for the past two years, penning songs cut by The Katinas, Amy Perry, Travis Ryan, Dara Maclean and Phillips, Craig & Dean.
Their song "Ascend to Heaven" was chosen as "Song of the Year" at the Gospel Music Association's "Music in the Rockies" event in 2008 and was included in the 2009 Dove Award-nominated choral collection by the same title.
Fike's Integrity label debut, The Moment We've Been Waiting For, features 13 tracks and was produced by Brent Milligan (Steven Curtis Chapman/Seventh Day Slumber/The Elms) and Paul Mabury (Hillsong/Brandon Heath/One Sonic Society). The project includes the radio single, "Wait," which is available as a free download for a limited time through the band's Facebook page, https://www.facebook.com/FikeMusic.
Louisiana natives Richie and Dana Fike have been singing and writing together since the late 90s. Following their marriage in '99, the couple toured the country, often appearing with friends such as Shane & Shane and Robbie Seay. But along the way, they "fell out of love with the road, and in love with the Church." With a desire for more "rootedness," the couple began interning and eventually serving on staff at Grace Community Church in Tyler, Texas. Then, in 2002, they joined the staff at Vanguard Church in Colorado Springs, Colo., where they have served for the past 10 years. To follow Fike on Twitter, visit https://twitter.com/fikemusic.
# # #
Kingsway and Integrity Music are the music divisions of David C Cook, a nonprofit global resource provider serving the Church with life-transforming materials. Headquartered in Colorado Springs, Colorado, Kingsway and Integrity Music's resources are distributed in more than 160 countries and sold worldwide. Additional information can be found at http://kingswayworship.com and www.integritymusic.com.