POINT OF GRACE LAUNCHES NEW LIFESTYLE AND MUSIC RADIO SHOW, "GRACEFUL LIVING"
"GRACEFUL LIVING" IS ABOUT LIVING WELL THROUGH FAITH, FAMILY, FRIENDS, MUSIC, AND MORE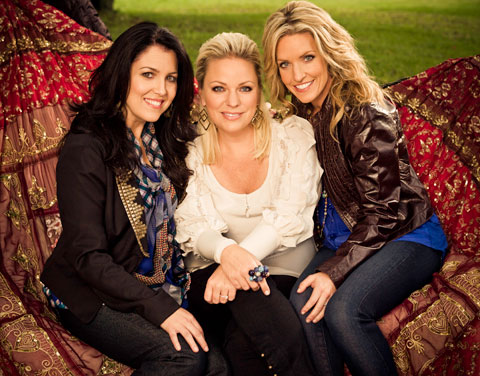 NEWS SOURCE: Warner Music Nashville
February 27, 2012
NASHVILLE, TN - (February 27, 2012) - Multi-platinum selling trio, Point of Grace (Shelley Breen, Leigh Cappillino, Denise Jones), is launching a new lifestyle and music radio show entitled "Graceful Living," in support of the group's ongoing platform to encourage others through their music and authentic lifestyle.
The weekly show will be syndicated through KMG Networks, with advertising sales being handled by AdLarge Media.
Beginning March 3, 2012, the 3-hour, music intensive family-friendly radio show will be launched to Contemporary Christian and Country stations and will include helpful tips and content that can be used in everyday life. The inspiring show will feature Shelley, Leigh and Denise sharing their lives as moms, wives, sisters and friends, and will include occasional celebrity guest appearances with Point of Grace's friends from music, movies and TV.
"Shelley, Leigh, and Denise are naturals on the radio, with a unique 20 year connection to the life-group of the Contemporary Christian and Country formats, that has a universal appeal amongst women and men, and families," remarked Gary Krantz, President & CEO of KMG Networks. "In addition, there is a long list of both Faith-based and General Market advertisers that want to reach this audience in a safe, compelling programming environment."
"Graceful Living provides AdLarge's advertisers the opportunity to align their products and services with an optimistic radio program, led by ambassadors of hope, faith, and family," shares Gary Schonfeld, Co-Founder and CEO of, AdLarge Media. "This is one of those perfect, family-friendly environments for all advertisers"
Since forming at Ouachita Baptist University 20 years ago, the GRAMMY® nominated group has sold more than 7 million albums and earned 24 consecutive No. 1 singles (27 total including radio staples "Steady On", "The Great Divide" and "Circle of Friends"), a feat unmatched by any artist in any genre. They have won 13 Dove Awards and been nominated for two GRAMMY Awards. For more information about "Graceful Living," visit www.gracefullivingradio.com.
About KMG Networks (www.krantzmediagroup.com):
KMG Networks is the network syndication division of Krantz Media Group. KMG Networks was launched in January of 2012 with The Studio Center Network. KMG President/CEO Gary Krantz is a former CEO and EVP of several profitable operating media businesses, including Westwood One, Clear Channel, Air America Radio, AMFM, and MJI Broadcasting.
About AdLarge Media (www.adlarge.com):
AdLarge Media is the fastest growing premium advertising sales organization in the U.S., servicing traditional radio, digital and mobile content providers. Through strategic asset utilization from content and technology partners, the company sells and executes compelling advertising campaigns. AdLarge was founded by industry pioneers and innovators Gary Schonfeld, CEO, and Cathy Csukas, President, who have assembled a highly experienced management team with a proven track record of delivering advertising solutions in an ever-changing media landscape.
# # #
For more info on Point of Grace visit the JFH Artists Database.