Blindside With BMG For European Distribution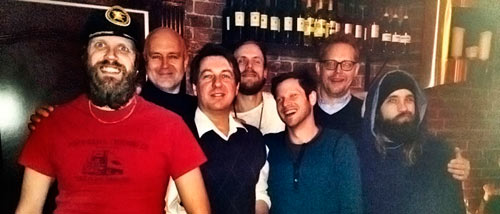 Left to right: Marcus Dahlström (Blindside drums), Thomas Scherer (BMG International Repertoire), Fred Casimir (BMG European Repertoire), Christian Lindskog (vocals), Tomas Näslund (bass), Michael Sundén (Blindside Manager), Simon Grenehed (guitars). Credits: BMG.
NEWS SOURCE: BMG
April 3, 2012
Stockholm, March, 2012 – BMG is delighted to announce the signing of Swedish hard rock band Blindside.
Blindside – Christian Lindskog, Simon Grenehed, Marcus Dahlström and Tomas Näslund – was born a decade ago in the suburbs of Stockholm. The band debuted in April 1997 in Sweden with their self-titled album. With its momentum building, Blindside became the first band signed to Warner/Elektra's 3 Points imprint, and in 2002 released Silence, a tighter, more produced record.
After tours with Hoobastank, Papa Roach, P.O.D. and Linkin Park, the band returned with the melodic About a Burning Fire which hit the top 40 on the US Billboard albums charts. The 2006 album The Great Depression followed, with the band making a move back from the US to focusing on Europe. After years of extensive touring, Blindside released the brand new album With Shivering Hearts We Wait in 2011 in the US (Fair Trade Services). In 2012, it will be launched throughout Europe and Asia accompanied by many live appearances.
Blindside manager Michael Sundén said: "The band found what they have been looking for; a great new partner on the creative side. They are really excited to be part of the BMG team!"
For more info on Blindside visit the JFH Artists Database.