PHIL KEAGGY REUNITES WITH GLASS HARP
AT BB KING'S IN NEW YORK CITY
Guitar Legend Joins Old Friends in Rare NYC Performance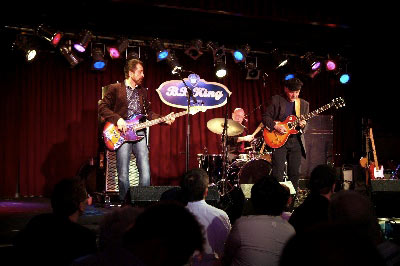 Phil Keaggy, front and far right, plays with fellow Glass Harp musicians Daniel Pecchio, left, and John Sferra, center.
NEWS SOURCE: McCain & Co. PR
April 3, 2012
Nashville, Tenn. (April 3, 2012) - Legendary Christian recording artist and world-renowned guitar maestro Phil Keaggy recently performed in New York City at BB King's Blues Club and Grill in Times Square. During the show, the guitarist was joined onstage in a rare guest appearance by drummer John Sferra and bassist Daniel Pecchio of Glass Harp, the three-piece rock band with which Keaggy recorded three albums on Decca Records in the '70s. During the two-hour show, Keaggy entertained the audience with both acoustic and electric guitars, featuring selections from his current CD, Live From Kegworth Studio.
Of Keaggy's performance, Bert Saraco in a show review published in The Phantom Toolbooth, writes "Phil stepped onstage with his acoustic guitar, JamMan, and a small table with his various 'toys' and treated the room full of New Yorkers and wide-eyed tourists to a half-hour of the kind of guitar wizardry found on his recent Live From Kegworth Studio project. Utilizing every technique known to any pair of guitarist's hands, Phil filled the room with layer upon layer of sound, including vocal and percussion effects."
When Sferra and Pecchio joined Keaggy onstage, the musicians treated the audience to Glass Harp repertoire, as well as improvisation.
"All three men shared vocal harmonies…and of course each is a master of their respective instruments," Saraco says.
In the review, Saraco, who calls the show "a rare treat," said Keaggy and company left its audience having witnessed "that special symbiosis that musicians sometimes share, creating sounds that charge the room with an energy that exists only for that special moment."
For more information about Keaggy and Live From Kegworth Studio, visit philkeaggy.com.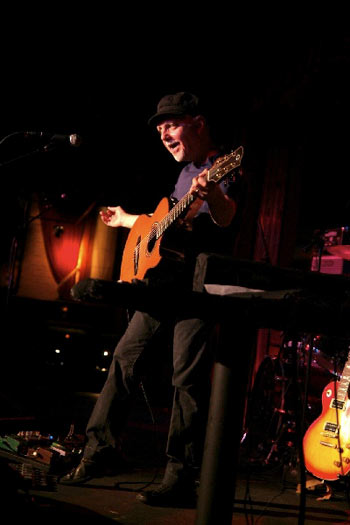 Phil Keaggy entertains the audience with a solo acoustic set. (Bert Saraco photos)
About Phil Keaggy:
One of the world's most beloved musicians, Keaggy's solo career has spanned 40+ years and has included more than 50 solo albums, both vocal and instrumental, as well as three releases with his band, Glass Harp.
Widely recognized for his phenomenal guitar playing as well as his vocal and songwriting prowess, he has received numerous accolades and awards for his music, including seven Dove Awards and a Grammy nomination. Keaggy was inducted into the GMA Gospel Music Hall of Fame in 2007, and was named one of the Top 10 best rock singers in Christian music history by GospelMusicChannel.com in 2009. In addition, Rolling Stone named him one of the "25 Most Underrated Guitarists," alongside Prince, The Beatles' George Harrison, Kurt Cobain, Neil Young and Fleetwood Mac's Lindsey Buckingham.
An accomplished record producer and one of the most sought-after studio guitarists on the planet, Keaggy also continues to sell out concerts all over the United States with his ever-changing style, ranging from rock & roll to fully-orchestrated instrumental compositions.
Keaggy released Live From Kegworth Studio through Strobie Records in Fall 2011, featuring his most popular live arrangements, including "Salvation Army Band," "The True Believers" and "Here Comes the Sun."
The genesis of the current project from the Gospel Music Hall of Famer came in response to fan requests through the years following Keaggy's concerts. "When I finish a show, people are always asking me if I have a CD with all the songs I played live at the concert. Regrettably, I didn't have one CD with many of the songs I played on a given night. So I took it upon myself to record live in my home studio many of the songs I do in concert," says Keaggy.
"With an audience of one," Keaggy says, "I played and sang my heart out and chose the best takes of each song presented in the collection." In true Keaggy fashion, the project features the musician's amazing vocals coupled with his brilliant guitar playing and looping magic, using no overdubs. Live From Kegworth Studio includes elements of all the musical stylings for which Keaggy is famous. He cuts loose with a wailing rendition of the classic "Salvation Army Band," allows the mood and tempo to take center stage on the Keith Green-penned "Your Love Broke Through," pays homage to George Harrison with a spot-on rendition of the Beatles' hit "Here Comes the Sun," and settles into some intricate acoustic guitar strumming coupled with reflective lyrics on the contemplative "Chalice."
For more information on Keaggy and Live From Kegworth Studio, visit philkeaggy.com.
For more info on Phil Keaggy visit the JFH Artists Database.