"THE MAGIC MAN IN THE SKY" -NEW BOOK ANSWERS SKEPTIC OF CHRISTIANITY'S QUESTIONS
PASTOR CARL GALLUPS PROVIDES SPIRITUAL AND INTELLECTUAL AMMUNITION NEEDED TO WIN ANY DEBATE OVER THE EXISTENCE OF GOD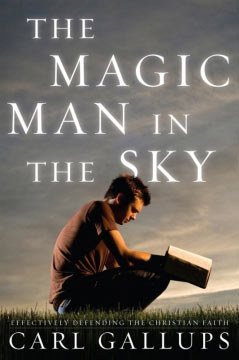 NEWS SOURCE: MorningStar PR
May 1, 2012
(Washington, DC) -May 2012 - In these complicated spiritual times every Christian needs a powerful and competent source of information to assist them in defending their biblical faith. Published by WND Books, Carl Gallups provides that source of information and inspiration for all Christians in defending and strengthening their faith in The Magic Man In The Sky: Effectively Defending the Christian Faith, releasing to retail May 15.
Is it possible to prove the existence of God? Pastor Gallups answers this question in The Magic Man In The Sky, challenging both believer and non-believer in the process to consider the consequences of either accepting or rejecting the truth he presents. Based on biblical theory,Gallups provides insights into the many unanswered questions of evolutionary theory, addressing these questions:
> Why are we here?
> Where are we going?
> What is the meaning of life?
> How is it possible that God exists-yet remains unseen?
> Does scientific evidence exist that supports the supernatural claims of the Bible?
> How can we be certain the Christian faith is the correct one?
Finally there is an authoritative, well-researched and definitive defense of the Christian faith in one powerful and easy to read book.
Carl Gallups work affirmatively explores and answers the question that, yes, the existence of God can be proven, and that behind all creation there is an Intelligent Designer who created all that exists.
In this hour of all but universal darkness, a bright light of hope and confidence shines forth from the truths presented in this book. In a time when lives are marked by a growing hunger for spiritual realities, Carl Gallups reveals the truth that real science and Holy Scripture are inseparably linked.
ABOUT THE AUTHOR:
Carl Gallups is the long time Senior Pastor of Hickory Hammock Baptist Church in Florida. Additionally, he is a conference leader, evangelist, and Christian media icon. Carl is one of the founders of video teaching material to the world famous PPSIMMONS YouTube ministry and Biblical apologetics channel. He is a graduate of Florida State University and the New Orleans Baptist Theological Seminary.