CASTING CROWNS WRAPS 42 CITY "COME TO THE WELL" SPRING TOUR
Tour Concludes in Houston with a Sold Out Crowd of 16,000+

"Come To The Well" Tour Fall and Spring Legs
Tally Audience of More Than 370,000 and 40 Sold Out Shows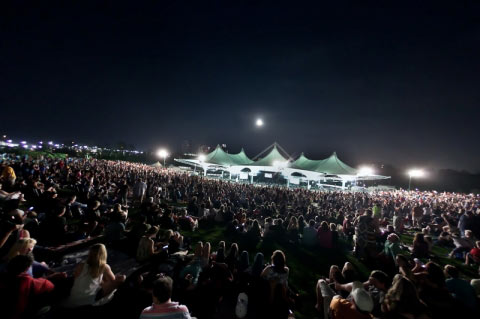 NEWS SOURCE: Provident Music Group
May 9, 2012
(Nashville, Tenn.) May 9, 2012 -- Best-selling Christian music artist Casting Crowns wraps the spring leg of its 42-city "Come To The Well" tour. With one of its most successful tours to date, Casting Crowns' final show alone saw a sold-out audience of more than 16,000 attendees.
Following a hugely successful fall run, including more than 15 sell-out performances, playing before 155,000+ people, the spring leg kicked off Feb. 9, in Florence, S.C. Among its scheduled 42 shows, the tour hit arenas in major markets like New York City, Grand Rapids, Mich., Orlando, Fla., Washington D.C., Philadelphia, Pittsburgh, Birmingham, Ala., St. Louis, Mo., Minneapolis and Houston, among others.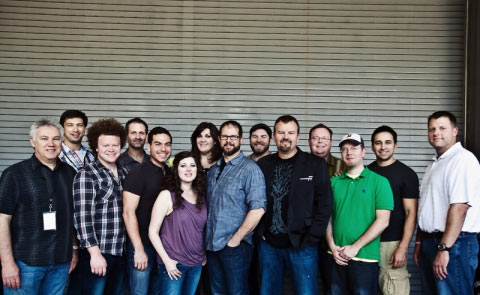 Photo (L-R): Jeff Roberts, Jeff Roberts & Associates, President; Jason McArthur, Provident Label Group, VP of A&R; Brian Scoggins, Casting Crowns, Drummer; Mike Jay, Proper Management, Artist Manager; Hector Cervantes, Casting Crowns, Lead Guitar/BGV; Melody DeVevo, Casting Crowns, Violin/Cello/BGV; Megan Garrett, Casting Crowns, Piano/BGV; Juan DeVevo, Casting Crowns, Guitar/BGV; Chris Huffman, Casting Crowns, Bass/BGV; Mark Hall, Casting Crowns, Lead Vocals; Chris Farnsworth, KSBJ Special Events Promoter; Joe Piver, Jeff Roberts & Associates, Senior Agent; Richard Silva, KSBJ Special Events Sr. Event Manager; Jeff Young, Cynthia Woods Mitchell Pavillion, Vice President of Operations.
Photo by: MFL Photography
The closing date in Houston on Saturday, May 5, marked Casting Crowns' highest-grossing and most well-attended show ever with 16,000+ concert-goers. Director of KSBJ Special Events, Chris Farnsworth, who promoted the event, comments, "KSBJ Radio was thrilled to host Casting Crowns' 'Come To The Well' tour this weekend. The Cynthia Woods Mitchell Pavillion was the perfect venue to see over 16,000 members of the Gulf Coast community come together to make this the biggest audience of Casting Crowns' career."
A final tally of tour numbers for both fall and spring legs indicate cumulative attendance exceeding 370,000 with 40 sold-out dates making Casting Crowns' "Come To The Well" tour one of the most successful Christian artist tours of all time.
About Casting Crowns:
All of Casting Crowns' projects are RIAA certified, with a tally of three RIAA Platinum Albums, two RIAA Platinum DVDs, five RIAA Gold Albums, two Gold DVDs and three Gold digital singles ("Who Am I," "Praise You In This Storm," "East to West"). The band currently holds the position as Billboard's top-selling act in Christian music, since 2007. The group has also been honored with two American Music Awards, with six total nominations, three GRAMMY Awards, 14 GMA Dove Awards and four 2012 Billboard Music Award nominations.
Casting Crowns' seven band members all remain active in student ministry in the Atlanta area and tour according to their local church commitments. Serving his 18th year in youth ministry, lead singer/songwriter Mark Hall maintains his role as the student pastor at Eagle's Landing First Baptist Church in Atlanta.
As a testament to the band's impact, Casting Crowns performed for a second time in North Korea in April 2009, in partnership with Global Resource Services; the band continues to forge invaluable relationships with the people in the D.P.R.K. (Democratic People's Republic of Korea).
Casting Crowns recently concluded its 42-city "Come to the Well" spring tour, which saw 40 arena sellouts, more than 370,000 in attendance (across the 40-city fall leg and spring dates combined) and has generated more than 13,000 child sponsorships through its partnership with Christian humanitarian organization, World Vision.
For more information on Casting Crowns visit: www.castingcrowns.com, www.facebook.com/castingcrowns, www.twitter.com/castingcrowns or follow Mark Hall's Twitter at twitter.com/markhallCC.
For more info on Casting Crowns visit the JFH Artists Database.