Once Nothing To Make Official Return August 11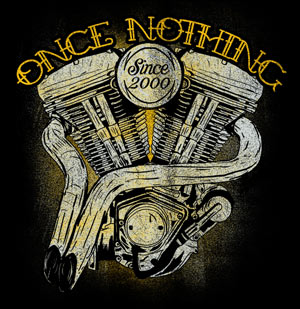 NEWS SOURCE: Once Nothing / JFH
May 27, 2012
Rock band Once Nothing, who split up in 2009, is making their official return with a reunion show coming this August 11 in Pittsburgh PA. According to the band:
First Came the Law was released January 15, 2008 on Solid State Records. "Earthmover" was release July 24th, 2007 on CI Records. We self-released "Voice of the Paragon" June 2nd, 2006. Before we originally called it quits, we did over 800 shows in 4 years. Seriously. We cut loose at the end of 2008, and did our "last" show May of 2009. Then, a year later, almost to the day, we had a reunion show with some of our best friends.

Now, we are older, and our lives are very different from what they were. It'd be hard to find five guys whose lives have changed as much as ours in only two years. Some of us have careers, some have wives, and some are still fighting the good fight. What matters most is that we are 5 dudes who love making music together, and that is what we will continue to do. August 11th marks the official return, what comes after that is unwritten. So slick back your hair, grow out your beard, and let's see where we go from here. Once Nothing//2012
The reunion show will be held at Altar Bar (1620 Penn Avenue, Pittsburgh, PA 15222) at 8:00pm on Saturday, August 11.
Tickets at Ticketfly.com & by calling 1-877-4-FLY-TIX
Buy Tickets:
http://www.ticketfly.com/purchase/event/126167?utm_medium=bks
More Info:
http://druskyentertainment.com/calendar_show.php?id=1338
# # #
For more info on Once Nothing visit the JFH Artists Database.