Holly Spears Releases Behind-the-Scenes DVD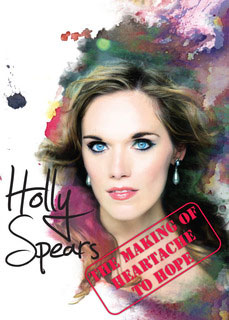 NEWS SOURCE: Nashville Publicity
July 5, 2012
(CINCINNATI, Ohio) -- Girl on a Mission Music has announced the release of Holly Spears: The Making of Heartache to Hope, an insider's look at the recording process of Holly Spears' critically acclaimed debut album, Heartache to Hope. A release party, held June 29th at popular Cincinnati nightspot The Redmoor, featured live performances with funds going to a local missions trip.
The DVD takes fans behind-the-scenes and features interviews with producer Mitch Dane (Jars of Clay, Bebo Norman, Caedmon's Call), members of Jars of Clay (who played on the album) and Spears herself, who shares some of the stories behind the songs. Viewers also get to see footage from the album's photo shoot as well as concert footage of Spears and her band opening for chart-topping pop/rock band Blessid Union of Souls.
"I am excited to take everyone behind the scenes of the recording process," says Spears. "This was a really exciting part of my life. A dream come true! I hope it inspires and encourages everyone who watches it!"
Since the album's release in April, Spears has been busy promoting the album with a media campaign that has included stops at The Harvest Show, Live From Studio B, Rehoboth TV, Cincinnati's Fox 19 Morning News and Nashville's More at Midday.
Heartache to Hope is available in select retail stores and through most major digital providers including iTunes® and Amazon.com. Holly Spears: The Making of Heartache to Hope is available at www.hollyspears.com.